Inspiration in Cornwall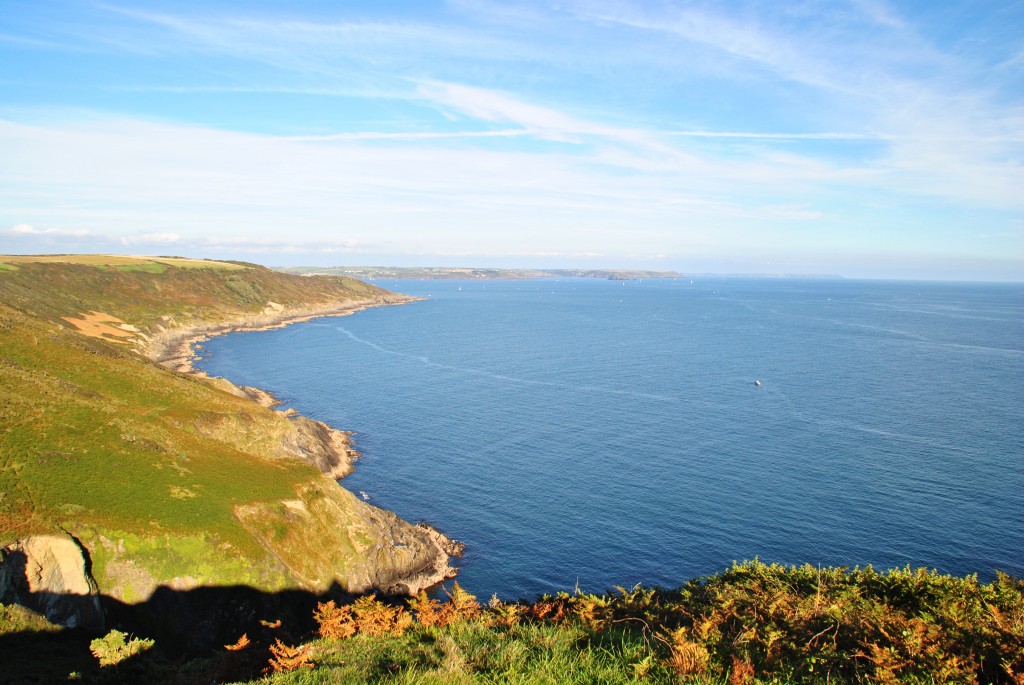 Editor, Jenny Ardagh visits Cornwall with Blue Chip Holidays, staying at The Dell bungalow, overlooking Whitsand Bay.
The south coast has always left me stunned at its beauty; how the light shifting across the sea, the cliff edges and the land beyond it can change the landscape so dramatically. On a sunny day, there's nowhere I would rather be due to its calming nature, and on a stormy day, I wonder at the sea's tumultuous power, the vulnerability of the coastline itself and admire nature at its best. The coast is somewhere I've always loved to take long walks, or just sit and watch the world go by.
I had the wonderful opportunity to discover the Cornish coast, in an area not far from Plymouth City Centre, but seemingly worlds apart from anywhere I had been before. After travelling in the car for many hours from my humble livings in East Sussex, my partner and I arrived at Torpoint, to The Dell: a house scooped into the Cliffside in between towns, Cawsand, Rame and Millbrook. We headed down the steep steps of the Dell after precariously parking the car next to what felt like a sheer drop, and were met by a spectacular view over Whitsand Bay. The dramatic scenery that faced us was characterised by long stretches of rocky and sandy beach, a wide expanse of calm blue water, and curved around the edge, Rame Head and on the opposite side, what we could only guess was the rest of Cornwall leading eventually to the mystery that is land's end.
My first instinct was to just sit and look. The Dell, as a self-catered bungalow, has outdoor seating in the form of a round wooden bench table, plus two sun loungers. Heading in to the bungalow itself, we were met with a lovely hamper left by owner, Matthew Dodds, filled with Cornish jam, chutney, biscuits and apple juice – all locally produced and wonderfully presented for our arrival. We immediately felt very welcome and at home.
The bungalow is open plan, with a spacious living area, decorated thoughtfully with coastal themed colours and furniture. The sofa was comfortable, with plenty of blankets provided for more chilly evenings, the bedroom décor extremely pleasing to the eye, and the kitchen area pristine. Blue Chip Holidays had provided a handbook with all the information we needed, which we read from cover to cover to make sure we made the most of our time, and we were even left an iPhone to control the heating with should we need to. Other facilities included: television complete with freeview, a fridge-freezer, microwave, kettle, oven, bath and beach towels, extra sheets, and even some handy binoculars. We were delighted to also see that tea bags and coffee were left for our use.
Our long journey had left us too tired to venture out, so we   spent an evening in, picking up supplies from the nearest local shop in Millbrook (a 5 minute drive from the bungalow with easy parking) ready for our big day of exploration. The next day, we headed out bright and early to explore the local area. We first walked down to the beach. This was a very steep and quite a strenuous walk, with steps gradually becoming more and more non-existent, and the cliff edge becoming quite precarious. This took around 10-15 minutes, with stops to admire the view, past the cliff-top café, and down to the beach café joined onto a surfing school/shop. Once on the beach, we felt incredibly secure and closed-in, with just the sea-air and sand between our toes to enjoy. We were very lucky that it was warm and sunny whilst there, but even on a slightly less lovely day, the bay keeps the weather from beating too hard against the cliffs. Having soaked up the sun on the beach for an hour or so, and checking out the surfing options for the next day, we headed back up the steep rock face, right up to the top in order to enjoy a lunch at The View Restaurant, which had been recommended to us by the owner himself.
The View is just a 10 minute walk from The Dell, and serves a range of locally sourced meat and fish dishes, plus locally produced drinks, such as elderflower cordial and fresh lemonade – not even close to a distant relative or what restaurants usually serve as lemonade. My partner and I both indulged in the catch of the day, the baked cod, which was light and tasty.
In the afternoon, we headed to Cawsand, a lovely, quaint seaside town that feels as if you've been thrown suddenly into a fishing village in the South of France. The small houses line the streets, into squares filled with character. We happened to come across some Morris dancers, and watched their performance whilst enjoying a must-have whilst in Cornwall, traditional Cornish ice-cream. Cawsand also has easy access to parking facilities, and is an ideal place to stroll the day away with a loved-one, friends or family. Whilst here, we spotted a few possible places to eat on our last evening there, including The Halfway Inn Pub and Restaurant. We came back here the next evening, having drooled over the menu and were glad we did – the best fish pie and roast beef we've ever had. I highly recommend it.
As it was such a beautiful day, we made the most of both the weather and having our car, and headed to Rame Head, which we had looked out on for the past day. The views were beyond spectacular from here, the coastal headland looking out over both Whitsand Bay and the Rame Head Heritage Coast. Atop the headland lies a derelict chapel, surrounded by Dartmoor ponies who graze the grass area, making for some fantastic photo opportunities, and just generally a great lookout point.
For our next, and last full day in Cornwall, we took advantage of the waves, and hired out a couple of surf-boards and wetsuits. It was unfortunately a bit colder and cloudier than the previous day, but we braved the 14 degree cold water, and managed to stand up all of one or two times. If you are keen to do some hardcore surfing, this is perhaps not he place to do so, but this is an ideal area to have a go for the first or second time. They offer surfing lessons, either 1-1 or in groups – you just need to catch the surf school on a day they're open. The culture in this area of the country dictates that shops, restaurants, cafes and even whole towns may be closed, depending on both the weather and the tourist population. This makes for an extremely laid back atmosphere everywhere you go, but may prove difficult if you come here in winter.
As a summer destination, however, this place is magical, especially if you share it with a loved-one. Reading through the guest book in The Dell, I was filled with warm feelings as most visitors were spending either their anniversary, a special occasion or even their honeymoons here. Some even explained how they were proposed to on The Dell decking itself. This perfectly portrays how romantic a place this is, and what a wonderful long weekend away this can be for a couple.
Overall, I was thoroughly impressed with my experience in The Dell, and also hugely satisfied with the whole Blue Chip Holidays service. I would love to go back someday.