Enjoy a Winter Holiday… In Austria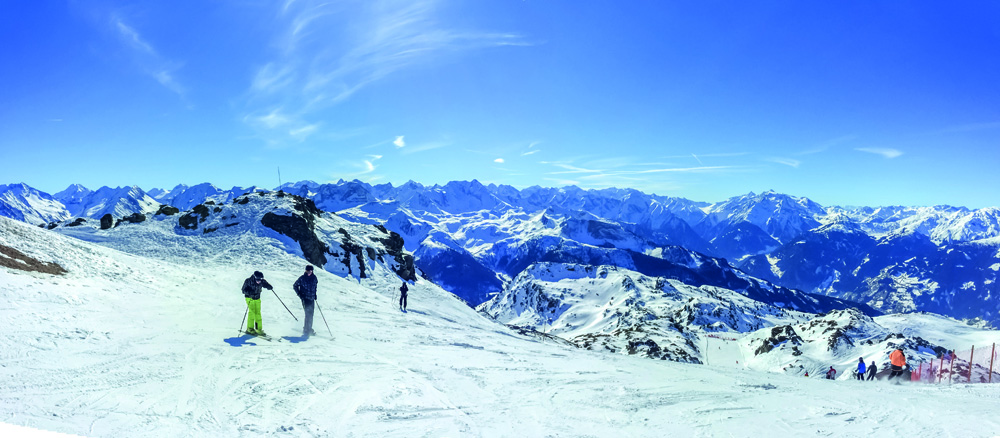 What better way to celebrate the winter season than to immerse yourself in a real-life winter wonderland with a holiday to Austria? Inspired Travel takes a look at the beautiful country and all that it has to offer this winter…
Winter trips away are becoming more and more common for British holidaymakers, however most people will jump at the chance of sizzling in the heat and booking an outing in the relaxing Caribbean sun. Inspired Travel questions the relevance of these types of holidays around the winter period and focuses on the benefits of a mountainous and scenic Austrian holiday, whether you're looking for an action-packed weekend away or a two-week long celebration.
Austria is a German-speaking country (although other local official languages include Hungrarian and Solvene) situated in Central Europe and is the home of approximately 8.66 million people – almost the same as the UK's capital city of London alone, proving that Austria makes for an intimate and cosy family holiday destination. Bordered by the Czech Republic and Germany to the north and Hungary and Slovakia to the east, Austria is best known for it's mountainous villages and alpine terrain, covering almost 84,000 square kilometers. The capital city, Vienna is home to the Schonbrunn and Hofburg Palaces, which, along with other landmarks and attractions, make Austria a historically and culturally-heavy country.
Austria is approximately 758 miles away from the UK and, although that sounds like a pretty fair distance, the many ways of travelling to and from the beautiful country makes the journey process a whole lot easier, and the destination more accessible than the average person assumes. Speaking from personal experience, although I wouldn't necessarily recommend a 20-hour coach journey to what feels like half way across the world, it is probably the most suitable means of travel for larger groups of people who might not have the funds to supply the whole family with plane tickets, and it's reassuring to know that this means of travel is always available if all else fails. Additionally, with several airports, easy access is granted to visitors with all kinds of holiday plans, however Salzburg Airport is well-known for serving the city and ski resorts in particular.
Anyone avoiding booking a holiday to Austria because they desire 'hot weather' should do their research first. With regards to climate and weather, Austria presents visitors with the best of both worlds; being located in a temperate climatic zone means that Austria lies between both the polar and tropical regions, causing a slight contrast in climate behaviour. The lowland regions of Austria in the north and east have more continental-influenced conditions, with hotter summers and colder winters. Meanwhile, the southeastern areas of the scenic country have long, warm summers – similar to those of Mediterranean countries. On the other hand, in Austria's western areas, the Atlantic climate is felt more – mild winters and relatively warm summers. Unlike in the UK, rain is quite evenly distributed across the duration of the year, however April and November are usually the wettest months while September and early October tend to be the driest. With regards to snowfall, snow cover usually lasts from the end of December through to March in Austria's valleys, from November through to May at an altitude of around 1,800m and in some areas above 2,500m, snow cover is permanent. Although a rough guide to the expected weather forecast can be given, at a high altitude, weather conditions and temperatures can change very drastically, so it's always good to be prepared.
Whether you're visiting Austria for an action-packed weekend away or a relaxing time under the Austrian sun, one thing that is sure to impress visitors, regardless of plans and desires, is the stunning scenery. Massive altitudes means you can see the true beauty of the mountains from ground level, taking in the paper-white snow and bright blue skies. The many different areas of this outstanding country means that snow isn't the only terrain you see – vibrant green grass is also sat at the bottom of the mountains, giving visitors a break from the bright and sometimes overbearing snow when needed. Additionally, tiny, rustic-style villages and calm, blue lakes make for intimate and soothing walks and the lack of street commotion gives visitors a reasonable amount of space and freedom to do as they please.
When thinking of a winter trip to countries such as snowy Austria and Switzerland, skiing is the first activity that comes to mind, and large amounts of people see these locations just as ski resorts. However, this couldn't be further from the truth. Despite the fact that there are ski resorts scattered all over the place, as a cultural and historic country, Austria has so much more to offer: from sleighing and ice skating to spa facilities and Austrian boutiques.
Because of Austria's close proximity to other cities such as Prague and Budapest, there will never be a dull moment during your trip. Why not take a coach tour through the landscape of western Hungary through to the captivating city of Budapest, where you'll be given the chance to enjoy a delectable lunch whilst admiring the main sights of the city – including the Vajdahunyad castle, Opera house or the Citadel? Or if sightseeing doesn't tickle your fancy, take a day out in the Austrian countryside for a wine tasting tour where you can satisfy your cravings with a delicious lunch at a traditional wine tavern whilst trying out all the weird and wonderful reds, whites and rosés. You are then given the opportunity to end your day with an hour-long, picturesque river cruise between the remote villages of Spitz and Melk. If wine is your area of interest but boats, not so much, then you could always try the wine tasting bike tour through the Wachau Valley.
For those of you who are seeking a more action-packed and adventurous break, the Vienna City Segway Day Tour is also available, allowing people in attendance to explore the city at their own pace. Also departing from Vienna, the tour allows guests to cruise effortlessly through the city, morning, afternoon or evening, making pit stops at beautiful parks and cafés while learning fun facts about Vienna's deep history. In addition, Schonbrunn Zoo or 'Vienna Zoo' is located around the grounds of the Schonbrunn Palace, just waiting for the animal lovers out there to learn about the 4000 animals it is home to. Founded in 1752, it is one of the oldest zoos in the world and focuses on nature conservation as well as educating visitors on the many different, wonderful species of animals.
It's clear to see that, with exceptional views, interesting history and an array of fun activities, Austria makes for a flawless holiday destination this winter season for people from all walks of life, so get booking!
An Austrian Skiing Holiday
For those daring ones out there who actually are considering booking a skiing trip, Austria is unquestionably the place to come! As the home of hundreds of ski resorts and the host of beautiful, thick snow, it's no wonder why Austria attracts so many skiers and snowboarders every year. Whether you're an experienced skier or just going along for the first-time experience, Austria has a wide range of resorts to suit people with all abilities. This country is renowned for its ski schools and experienced instructors, making the learning process a whole lot easier for the young ones. Runs for every level skier are available on Austria's slopes, along with the constant availability of skiing and snowboarding equipment, meaning you can rest easy without the worry of purchasing beforehand.
Accommodation in Austria, just like everything else the desirable destination offers, ranges to suit all kinds of holiday plans. There are many four and five star hotels located around the country, meaning first class accommodation is always available for those of you who seek a luxury lifestyle. After all, what sounds more appealing than enjoying a cosy night in your hotel room after a long day on the slopes? On the other hand, those of you who want to fully immerse yourself into the interesting culture and enjoy a comfortable stay while living a true Austrian lifestyle, rooms in guest houses and lodges, alongside villas (for a more private stay) located in the calm villages and snowy hills are also on offer.
Inspired's Top 3 Austrian Ski Resorts
Innsbruck
To experienced skiers, what usually matters the most is an adrenaline-fueling vertical drop – the height difference between the highest lift-served point and the end of the run. This is something Innsbruck resort has down to a T. Although practically all of Austria's ski runs incorporate this important element, Innsbruck resort is the host of one of the highest altitude runs, with a vertical drop of 5,547ft or 1680m. Innsbruck's eight ski areas – scattered at distances from 15 to 45 minutes travel time from the city centre – are all open to visitors, meaning boredom is never an option. Free scheduled ski buses pick up at points convenient to the main hotels and proceed via a central transfer point to all the ski areas. Also, a single lift pass, valid for all the ski areas, means you can explore the length of the resort at your own pace.
The Grand Hotel Europa is just one of the many hotels located in Innsbruck, and definitely portrays what it says on the tin: grand! Although maybe suitable for guests with a more lenient budget, this lavish hotel offers 24-hour front desk service, laundry services, currency exchange and allows pets, as well as the use of a casino, fitness room and sauna. With rooms from €114, the Grand Hotel Europa presents a luxurious stay. Similarly, positioned just over 1km away from the city centre, Hotel Alpinpark is another favourite and, as a family-run hotel, here the important elements of a family holiday are recognised. Numerous single and double rooms equipped with all facilities are provided, as well as spacious family rooms. Hotel Alpinpark is the host of a restaurant with a garden terrace and large bar, as well as a café with an open fireplace for the nippy winter evenings.
Arlberg
Part of the Arlberg region, this ski resort – which runs from St Anton in Tyrol all the way to Warth – is one of Austria's most popular, earning itself a 5 star rating on popular online information sites. The resort is the host of over 300km of slopes and 200km of ski routes for the skiers and snowboarders out there. 85 lifts transport guests to and from various areas around the resort, meaning the journey up to the slopes and villages is a lot less daunting. St Anton is popular among young partygoers, while Lech has a calmer atmosphere, suited to families and less experienced skiers. St Anton resort is open from early December until late April – the perfect time to book your winter getaway. ​Day ticket prices range from €30 for children and €55 for adults, which are perfectly reasonable prices when considering how much you're guaranteed to get out of it.
There are numerous hotels situated within this resort, including hotel Maiensee and Arlberghö​​he, right on the slopes' doorstep, as well as Arlberg Hospiz Hotel and Hotel Schwarzer Adler, located within 200m of the resort. Almost all of these hotels offer both luxury and necessity, with lovely rooms, unique and enjoyable food, spa treatments and activities and classes such as yoga – something for everyone, whether you're travelling alone or with the whole family.
Katschberg
Katschberg ski resort is located in Carinthia, the Lungau region. There are 70km of slopes to endure for both skier and snowboarders, located between the elevations of 1,066m and 2,220m. 16 modern ski lifts allow for easy transportation while cosy ski huts and typical Austrian food awaits you at the top. 10km of 'easy slopes', 50km of 'intermediate' slopes and 10km of 'difficult' slopes are available at the Katschberg resort, again showing that it is a suitable destination for beginners and experienced skiers alike. Katschberg resort is open from late November until mid April, and asks for daily ticket prices of €22 for children and €45 for adults.
Nearby hotels include the Landal Katschberg and Das Alpenhaus Katschberg, situated within 100m of the slopes, guaranteeing an easy and tranquil voyage. But if you desire a more quiet stay, away from the chaos of the slopes, the JUFA Lungau sits 6km away. With an included restaurant and bar, the JUFA Lungau is the perfect hotel for a family stay. Enjoy a refreshing, seasonal drink in the lounge area while the kids go wild at the close-by play park or in the pool table area.
Enjoy a Winter Holiday… In Austria