Inspired Review: Drakes Hotel
Inspired Travel spends a night at Drakes Hotel in Kemp Town, Brighton, absorbing everything the area has to offer and appreciating the boutique home-from-home decadence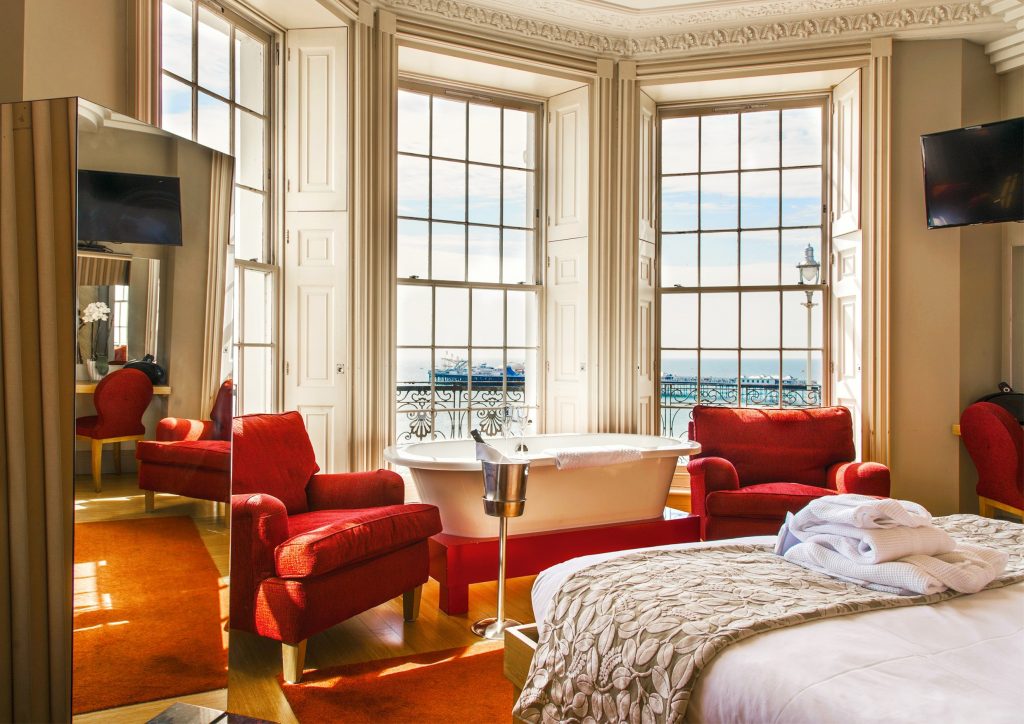 Facing the waterscape of Brighton seafront, Drakes Hotel offers potentially the best view on offer for those who wish to look out over the sea, onto the beach and across to the pier. Situated on Marine Parade and settled in amongst a range of other hotels, lodges and guest houses in Kemp Town, this is obviously an ideal place to go for an overnight stay, in particular if you want to be close enough to the city centre to access the many restaurants, pubs, bars, shops and tourist attractions, but still far enough away to feel out of the hustle and bustle. This Georgian townhouse hotel is however set well apart from the others in the area; it is contemporary, sophisticated, highly romantic yet also very appropriate for business meetings. Its interior, designed by Tim Shephard, creates an exquisite homely feel, with warm furnishings, natural woods and ambient lighting.
My partner and I arrived at the hotel at around 6pm. With a car each, we thought this might be quite problematic, but we were given a parking permit each and directed to two parking bays in the road next to the hotel. This was very simple, although I perhaps wouldn't advise driving over other forms of transport; there aren't too many spaces (15 in total on a first come, first serve basis) and actually the traffic in Brighton can be fairly hellish. It's not far from the train station and there are plenty of buses, as well as, of course the option of taxis.
We were shown to our room, which was a King Size Circular Sea Facing Room on the second floor (room 101) – one of the 20 individually designed bedrooms. This was the type of room that became more and more impressive the more you looked at it. Floor to ceiling windows faced us as we entered, allowing a panoramic-effect view over Brighton seafront, curving around our circular shaped abode, including two armchairs, a King size bed, a television with full Sky package, a desk, a wet-room style bathroom and – last but definitely not least – a free-standing bath. Never before have I experienced a bath in my bedroom, and this one provided the perfect vessel for relaxing on a cold winter's evening, with a fantastic view of the world outside. Of course there were shutters for privacy, which were very effective in blocking out the light and even noise from outside, free Wi-Fi, and I-Pod dock, and the room had a wide range of lighting to suit any situation.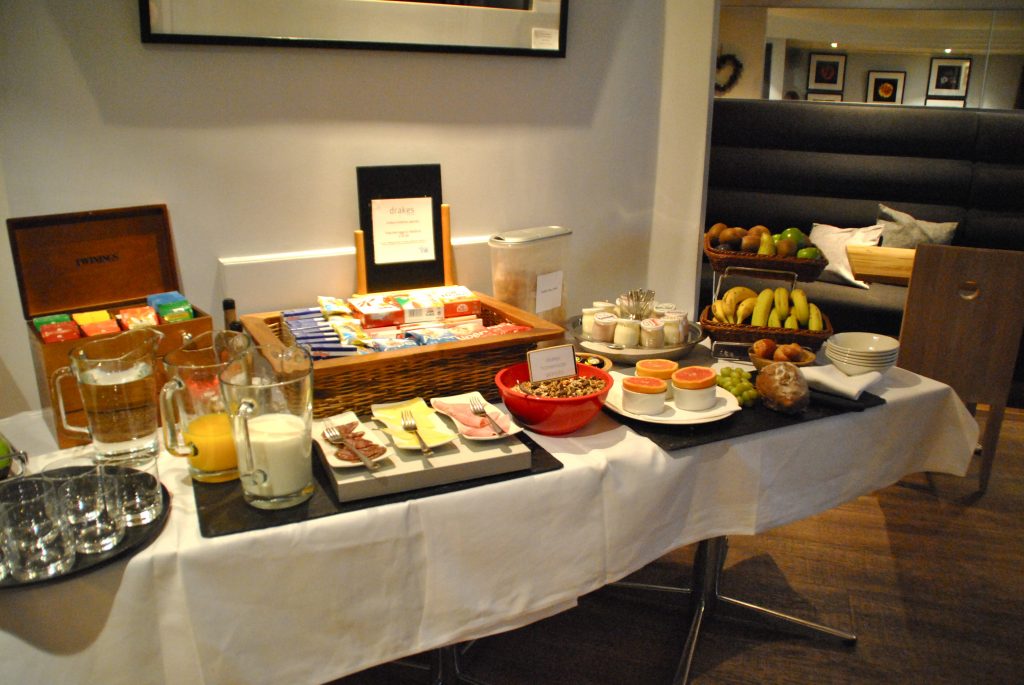 I can't emphasise how comfortable the bed was. Unfortunately, I didn't have dinner included in my review (due to our previous month's review), so there was a temptation to simply go straight to bed and enjoy the comfort, but of course that would have been a wasted opportunity for going out for a meal in Brighton. My partner and I headed out into the centre and found a lovely Greek restaurant, which filled us up ready for our luxurious night's sleep at Drakes.
In the room there were plenty of amenities, such as tea and water (still and sparkling), and we were also offered a turndown service for while we were out and about. The staff were incredibly attentive to our needs, and I felt very at ease asking for anything I needed to make my stay more comfortable.
Breakfast was served from 7.30 till 10 am, which was the perfect window to allow a slightly more leisurely wake up call than usual, but still securing time to get to work at a reasonable hour. The restaurant area itself was intimate and nicely laid out, and of course this time of year brought with it a particularly flashy Christmas tree, which created an even more homely atmosphere. This area would lend itself perfectly to corporate events or private hire. We were greeted by a lovely member of staff on our way into the restaurant who informed us that the dish of the day was poached eggs with haddock, and that the pastries, bread and granola was all homemade. Upon sitting down and ordering our pot of tea, we also learned that the marmalade and raspberry jam were homemade, which were both absolutely delicious with our slices of white and whole grain toast.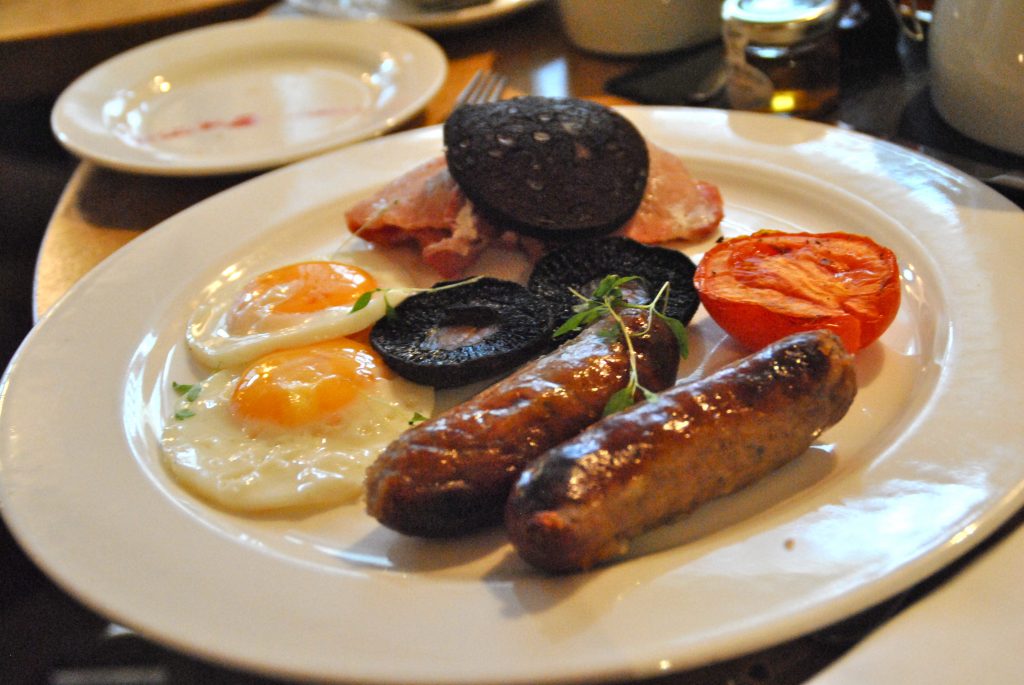 I went for the smoked salmon and scrambled eggs, whilst my partner went for the Full English – one of us had to. My smoked salmon and scrambled eggs were delicious, with a slice of lemon to taste and some parsley as garnish, which actually made a huge difference. From the noises on the other end of the table, I can safely assume the Full English was also delicious. In addition, and included in the price of all the breakfast options, was a continental bar with hams, cheeses, breads, porridge, cereals, juices and pastries.
Drakes aims to be a 'lavish home from home', and it certainly achieves this aim, with its beautiful rooms, laid out with the clear intention of privacy and intimacy – as you'd find at home – and with impeccable service across the board. I should think this hotel would be ideal for a range of nights or even weekends away. They have corporate hiring facilities and can cater for weddings also, so head to Drakes for an occasion, or simply spend a night and enjoy the view!
43-44 Marine Parade
Brighton
BN2 1PE
www.drakesofbrighton.com