The Desires of Dubai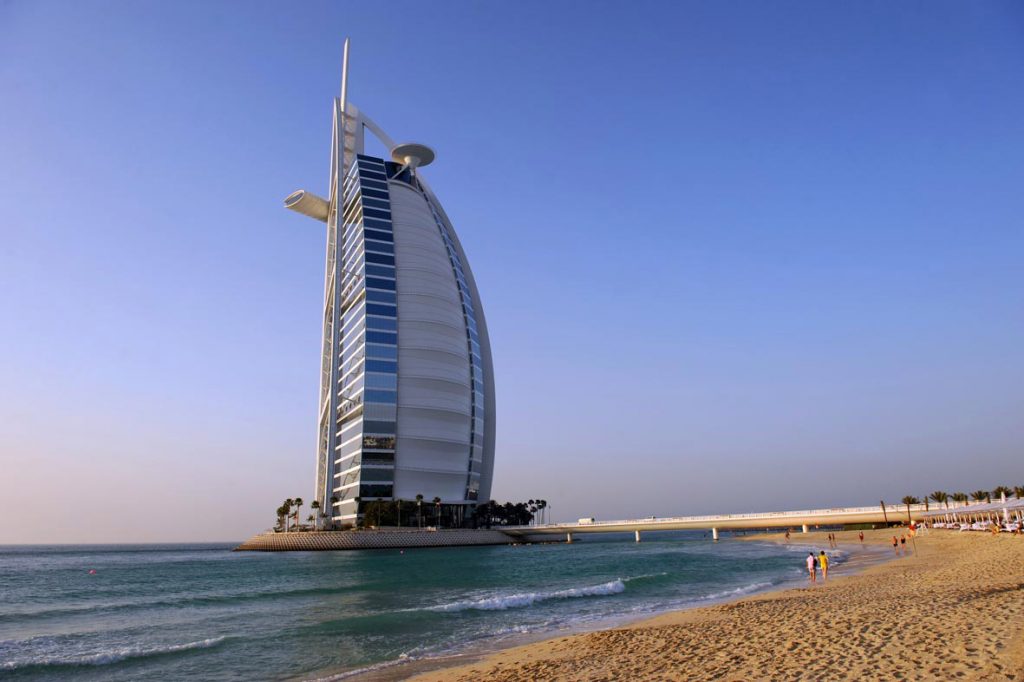 Inspired Travel takes a look at what the beautiful Arabic city-state of Dubai has to offer its potential luxury-seeking visitors for the 2017 season, with a special focus on how this location caters to the increasing demand for cruising
Dubai is the host of rich culture and history as well as exquisite views and attractions, and Inspired Travel thinks this is the perfect destination for luxury-seeking holidaymakers to spend their next vacation. It is clear to see that Dubai is becoming an increasingly popular location for British holidaymakers looking for a lavish break and, with its exceptional landmarks and scenery and lavish lifestyle, it's clear to see why. Although it has always been a desired location for luxury-seeking visitors, Dubai has become even more popular overtime. It's unusual and, quite frankly, very difficult to find a destination that hosts the best of both worlds, yet Dubai seems to have this down to a tee with its fascinating desert and highly developed city overflowing with modern architecture immediately adjacent to each other – quite possibly the main reason as to why Dubai has become such a sought-after location for visitors with interests in all aspects of travelling.
The city is one of the seven United Arab Emirates and is well served by airlines, with direct flights from London taking under 7 hours, making the travelling experience a whole lot less daunting. As with any holiday location, Dubai has its best and worst times of the year to visit, although this depends on what you're looking for during your trip. One of the best times to visit with regards to getting the most out of your money is during the months of June to August, as Dubai's hotels and general facilities tend to offer a wider range of deals and discounts on accommodation and promotions on dining and attractions.
F
or those seeking the perfect holiday heat, you might assume that the best time of year to visit Dubai is during the hottest months; typically between April and October. However, during this time of the year, highs are in the 100s and, although rainfall is scarce, humidity levels rest around 90% higher. Although weather like this might seem like somewhat of a luxury in comparison to the miserable British rain, it makes any outdoor activity – including a relaxing day at the beach – almost unbearable. The best time of year to take a trip to Dubai, in terms of sensibility, is between the months of November and March. Although these are Dubai's winter months, daily highs range from the upper 70s to the low 80s, making it the perfect time to sprawl out along the Persian Gulf's white sands. You can also expect a few raindrops here and there, although this is almost always short lived.
As with most Middle Eastern countries, Dubai – branded as the 'city that never stops' – is the host of a rich culture and colourful way of living, with endless amounts of attractions and landmarks to visit, as well as outstanding sights to see all year round. Even though the nation is steeped in Islamic traditions, Dubai showcases an international lifestyle and people from all over the globe wish to live in Dubai, resulting in it being one of the top real estate hubs in the world. When visiting Dubai, foreigners often surround themselves with concern or confusion around what they should be wearing. For visitors, there is no strict dress code, although typically you will see most men wearing long white robes, while women's fashion varies; some wear western clothing and some wear robes and veils. Lets not forget, Dubai is a Muslim country and you may hear the call to prayer over loudspeakers throughout the days, so be sure to respect segregated prayer rooms in public places too. Visitors can get to grips with the local culture in Dubai just by simply being there. Explore past architecture as you walk through the Bedouin village, sit outside one of the cafes and even inhale some of the flavoured tobacco smoke drifting through the calm air from shishas.
But Dubai is a whole lot more than culture; there are many unique and exciting attractions in the city, as well as a huge amount of high-class hotels. No matter what your desires for a trip away are, Dubai promises to find something that'll thrill you! The Burj Khalifa is probably Dubai's most famous landmark, and is currently the tallest building in the world at over 800 meters tall with more than 160 floors and 26,000 glass panels. The Burj Khalifa isn't the only spectacularly over-the-top attraction, as Dubai now prides itself on its outstanding array of architecture in the form of the most modern-looking buildings on the globe. Taking a look at Dubai now, it's hard to believe that, until oil was discovered in the Arabian desert back in the 1960s, it was only a small fishing village and was home to around 6,000 people. Today, the population is 2.6 million and it has become a home-from-home for the rich and famous.
The seawater Dubai Creek, flowing between Deira and Bur Dubai in the historic centre of the city is another of Dubai's renowned attractions and is the reason for the city's very existence. Since being used to develop a commercial seaport when trade with the outside world began, the Dubai Creek has been widened and is now often busy with water taxis ferrying passengers between the north eastern and south western banks. These water taxis are now often used as a practical way of seeing the sights around the city, providing guests with views of palaces, mosques and other Dubai landmarks.
If sport is something you enjoy and you are seeking an action packed vacation, then you couldn't choose a better destination in the Middle East. Claiming to be the sports capital of this region of the world, Dubai hosts world-class golf, horse and camel racing, tennis, boating, sailing and rugby. The colossal Mall of Emirates is the host of indoor snow skiing, so there really is something for everyone and you can experience the wonders of the world's different climates right in the heart of the city. In addition to this, why not enjoy a day at the Wild Wadi outdoor water park or push yourself out of your comfort zone and parachute at the Palm Jumeirah?
Or for those of you that would rather surround yourself with the safety of the hot Dubai sandy beaches, simply enjoy your days basking in the sun on fine white sand, taking shade under the palm trees. Additionally, if splashing the cash on shopping sprees is more your thing, then fear not, as Dubai is the home of a number of excessive malls and shops, where you can live a life of true royalty.
Whether you're looking for an exotic honeymoon location, shopping heaven or just to simply laze around in the lap of luxury for a week or two, you should really consider visiting Dubai.
Cruising in Dubai
Dubai's growing popularity as a luxury destination is underpinned by the diversity of its attractions as well as its accessibility, with such a broad market of visitors choosing the emirate. Cruising offers travellers to experience the city from a different perspective. Dubai Cruise Tourism is working in collaboration with Emirates Airlines, DP World, Dubai Customs, Dubai Immigration and other relevant partners in order to provide comprehensive support to increase flexibility for the cruise lines and travellers.
October 2016 marked the official start of the 2016/2017 season with Dubai Cruise Tourism. As travellers around the globe look to escape the winter cold for sun-filled holidays, Dubai Cruise has increased options since the 2015/2016 season, which saw passenger numbers grow by 19% and ship calls increase by 24% in comparison to the previous year.
For this season, two new lines – Norwegian Cruise Line and Thomson Cruises – are making their debut in the region with their maiden call to Dubai, offering cruise visitors even more options. Thomson Cruises will be the first ever UK-based cruise line to home port in Dubai, contributing to over 12 calls and more than 25,000 cruise tourists in Dubai this season. Celestyal Cruise Lines from Greece will also be home porting in Dubai for the 2017/2018 season and the leading operator for the Greek Islands and Turkey will be the first to offer three to four night cruises in the region. The adition of Celestyal Cruise Lines will attract the Mediterranean source markets, further expanding the entire region's appeal as a destination of choice for the global traveller. The new season is expected to record a further 18% increase in ship calls, leading to 157 ship calls and an estimated 600,000 cruise tourists arriving in the city. The purpose-built cruise terminals ensure that international visitors arriving in Dubai are well catered to and are offered world-class service based on a strong sense of Arabian hospitality.
Dubai has the most modern and the largest dedicated port facility in the Middle East for cruise operations, spanning over 36,500 square meters on a pier stretch of 2200 meters. The facility enables Dubai to comfortably handle complete passenger turnaround of five cruise ships simultaneously, and helps to cement Dubai's place as leading cruise hub of the region. The terminal is equipped with plenty of facilities for passengers and crew, including Dubai Tourism helpdesk with complementary maps in multiple languages, money exchange and ATM services, a post office, duty free and retail outlets, a café, restaurant and mini-mart, aerial and coach tour operator outlets, complementary Wi-Fi, a dedicated taxi rank as well as complementary shuttle bus services to selected shopping malls across Dubai and Paid Shuttle buses to Dubai Airport and Dubai Mall, prayer rooms and streamlined check-in facilities for passengers.
With over 23 of the world's leading cruise operators – including six home-porting lines – anchoring in Dubai for an overnight stay or passenger turn-around and an estimated ten maiden ship calls, the 2016/2017 season is expected to continue the upward trajectory, contributing to Dubai's strategic goal of achieving 20 million visitors per year by 2020.
The Cruise Arabia alliance, formed between Dubai's Department of Tourism and Commerce Marketing, The Oman Ministry of Tourism, Abu Dhabi Tourism & Culture Authority, Qatar Tourism & Exhibition Authority is designed to enhance cruise line and cruise visitors' experiences in the region. As a result of the Cruse Arabia alliance, Dubai has been positioned as a winter destination for the European and Mediterranean markets. Celestyal Cruise Lines choosing Dubai as its home port in the region is yet another instance of the collective approach of tourism, airlines and port authority leading to a compelling tourist proposition.
The Arabian Gulf is among the world's top winter sun cruise destinations, where guaranteed sunshine, majestic desert landscapes and futuristic cityscapes meet. It offers a must-experience cruise and tourism destination with great air connectivity that is only eight hours flight from two thirds of the world's population. The five destinations bring together the best of what the gulf has to offer – from world-class attractions, hotels, retail and culture, all the way to authentic Arabian experiences.
The Desires of Dubai