A Greek Adventure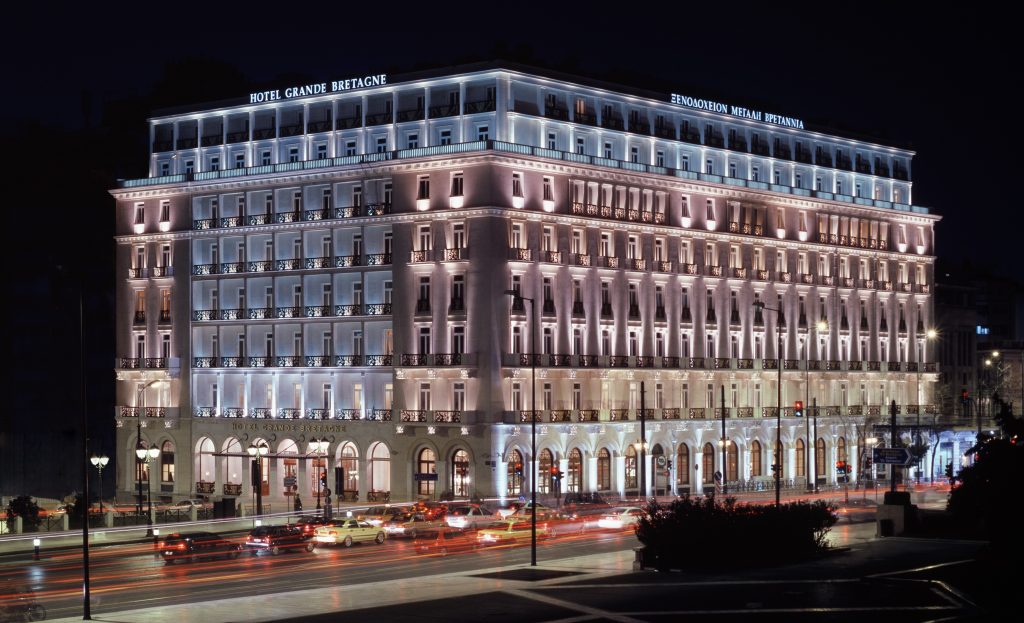 In an Inspired first, Managing Director, Lee Mansfield embarked upon a Greek adventure back in August 2016, reviewing his stay at the magnificent Hotel Grande Bretagne in Athens, followed by his experiences of a weeklong cruise around the Greek islands with Variety Cruises
Located right in the heart of the Greek capital since 1874, landmark Hotel Grande Bretagne makes for a luxurious overnight stay, with suites and service fit for a royal. Although it only takes around 3-4 hours to fly from London to Athens, this journey seemed to be particularly grueling and it's safe to say that, after arriving in beautiful Athens, I could hardly wait explore the grounds of the lavish hotel in which I was set to stay. With breathtaking views of the magical Acropolis, lush Lycabettus Hill or the original Olympic Stadium, it was clear to see that the multi-awarded, 5-star Hotel Grande Bretagne offered everything you could wish for and more; an unrivalled perspective of Athens' mythical history and deep culture.
The hotel's extensive infrastructure includes 15 meeting rooms, with the ability to host anything from 6 to 800 attendees. In addition to this, and with meticulous attention to detail, the hotel's 320 rooms and suites link together charming old-world elegance with state-of-the-art facilities, providing its guests with the best of both worlds, promising to suit the needs of every traveller.
Due to its prime location, the hotel is within walking distance of exclusive shopping areas, museums and the majority of the city's other main attractions, although unfortunately this time around, I wasn't able to enjoy these as such, scheduled to set off on my weeklong cruise first thing in the morning. The Acropolis and the milestone of Parthenon are situated within close distance of the hotel, and Plaka – the old historical neighbourhood of Athens – is clustered around the northern and eastern slopes of the Acropolis. Monastiraki Flea Market is also close by, and is 'the' place to go for unique antiques and gifts, as well as a selection of hand-made souvenirs.
Over the last 11 years, Hotel Grande Bretagne has been recognised internationally and has been rewarded with an extensive list of rewards, emphasising just how top-of-the-range the hotel is. Back in 2006 and 2007, Hotel Grande Bretagne was awarded with a stream of Philoxenia Awards, including Most Luxurious Hotel in Greece, Best Historical Hotel in Greece, Best Traditional Hotel, Most Luxurious Hotel Property, Best Hotel Restaurant and Best City Hotel, as well as numerous other achievements from bodies such as Travel & Leisure Magazine, Forbes.com and Expedia. As we well know, the reputation of a hotel or any property, for that matter, can change drastically, and experiences are subjective, but Hotel Grande Bretagne has strived to remain one of the world's most prestigious venues. In 2015 alone, the hotel received further recognitions such as The Top 100 Hotels 2015: Europe, Tripadvisor Hall of Fame Award 2015, Gold Standard Award and has ranked among the world's most elegant hotels list. Does it really get much better than that?
We took a tour of the hotel's grounds, which was plentiful with top-of-the-range facilities, such as a full-to-the-brim bar in the foyer, an outstanding rooftop restaurant and swimming pool, as well as gym and spa facilities, while their other, optional amenities include butler services, 24 hour concierge services, children's amenities, in-room dining, internet access and a gift shop – the perfect venue for couples, lone travellers, families and businessmen and women alike. Right in the heart of the hotel, the GB Spa offers guests a fresh, innovative approach to total wellbeing, with various different therapies from ancient holistic rituals to the finest modern skin care, promising to soothe and transform even the most discerning of visitors.
Although it wasn't actually the room I slept in during my overnight stay, we were shown the hotel's highest-ranked suite, which was what can only be described as unreal. Larger than most people's houses, this suite was the host of just about everything you could imagine – fit for a royal and nothing less. With a bed bigger than my living room and its own personal gym, you wouldn't even need to leave your room to experience a truly lavish Greek lifestyle – it's all within those four walls. The suite also hosts its own dining room, kitchen, separate bedroom, sauna and steam room, while overlooking the beauty that is the Greek coast. Not bad if you can spare £14,000 a night, right?
My own suite though, was almost as fabulous and was the perfect setting to start my Greek adventure. Spending the next week sleeping on a boat – although exciting – caused somewhat of a concern surrounding the possibility of sleepless nights, but I could rest assure that I would have a sound night in the comfort of my hotel suite. Overlooking the Cinema Square, my room was quite exquisite, although as the most elite hotel in Athens, I didn't expect anything less.
I also had the opportunity to experience Greece's fine dining at the hotel's rooftop restaurant. I was seated in the corner of the venue, with a perfect view of the Acropolis, one of the country's most famous ancient buildings, which was quite spectacular to witness. The lighting was intimate and set an ideal mood for late night dining. I was presented with a fantastic bottle of wine, recommended by the restaurant staff, which perfectly complemented the delights I was about to devour. For my starting course, I opted for the grilled Calamari, served with roasted new potatoes, olive oil and fleur de del, cherry tomatoes, caper, olives and basil. Although Calamari is a frequent selection for me, this particular dish went above and beyond what I expected or had ever eaten before. This left me with high standards for my main course, and it didn't disappoint. Although already satisfied, I was presented with my medium Rib-eye Steak, which was steaming from the centre and accompanied by fine steamed vegetables with extra virgin olive oil. The steak was of an outstanding cut, was cooked to absolute perfection and I left the hotel's rooftop restaurant without a single complaint.
The hotel's team of staff were just as delightful as everything else I encountered during my overnight stay. Knowing I was in very capable hands with the friendly and informative staff in the foyer who were available to answer any questions and cater to my every need, as well as pleasant and knowledgeable waiting staff, made the whole experience a lot more relaxing and gave me time to unwind before setting sail around the surrounding islands. If anything, I was disappointed that I hadn't flown out earlier and didn't have the chance to use the hotel to its full potential.
Until next time, Hotel Grande Bretagne, because I'll definitely be back soon!
A Greek Adventure