A Greek Adventure… Continued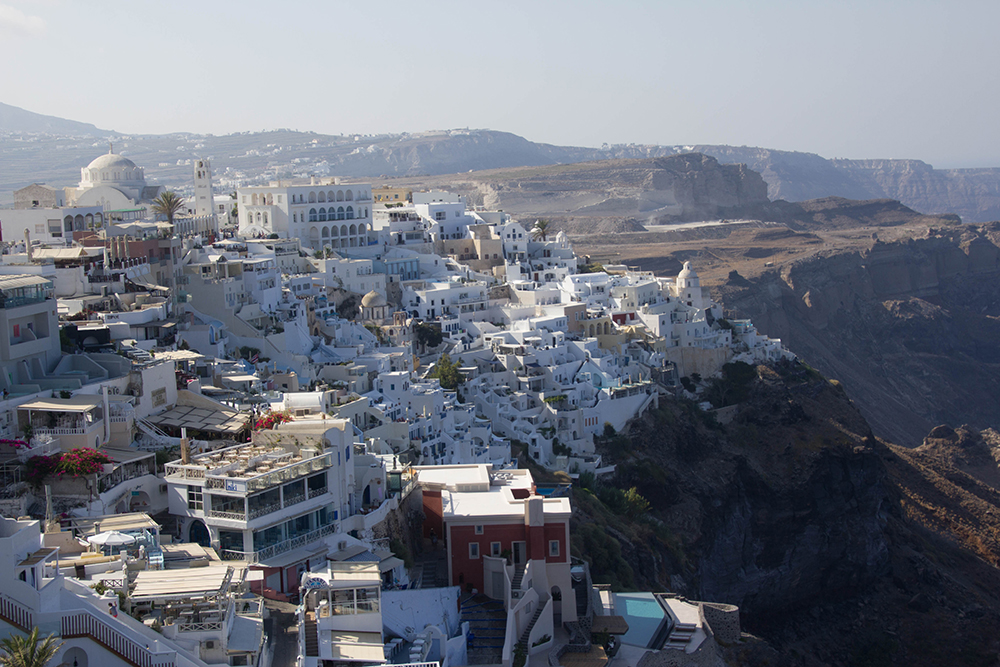 Lee Mansfield continues along his adventure, giving you the details of his cruising experience around the beautiful Greek islands with Variety Cruises
As well as an overnight stay in Athens' most elite hotel, Lee had the luxury of setting sail on one of Variety Cruise's very own cruise boat – the newly rebuilt Mega-Yacht, the Harmony V. This cruise boat is a modern, elegant yacht with a sleek high-tech look very similar to the private yachts to be found in the famous ports of the world. The 56 meter long, 8.4 meter wide Mega-Yacht was launched back in June 2009 and compiles with Eurosolas safety regulations while its powerful engines, generators and state of the art twin stabilisers allow for safe and comfortable cruising. A spacious lounge with classy seating and an American Bar leads into a dining area, decorated with warm colours. Both areas offer large windows providing for the most beautiful views of all destinations the ship cruises to. The 200m-squared sundeck offers a shaded outdoor area for all day dining, and an additional bar as well as sun chairs and loungers. The swimming platform on the Harmony V stern allows for easy access to the ship and for a wide range of sea-related activities.
As their website says: "Everybody should make the historical and cultural journey around the Aegean coastline and islands of Greece once in a lifetime", and Lee took the pleasure of lapping up all that the country and its surrounding islands had to offer…
"My adventure started on August 18th when I flew from the UK to Athens. I'd been to Athens before as someone who enjoys my travels, but knowing I was about to embark upon a completely new experience made the whole process a lot more exciting. In usual circumstances, I would have flown out on the Friday, being transferred to Marina Zea by direct road transfer however, I decided that I was going to take full advantage of being the publisher of a luxury travel magazine by staying at one of Athens' most impressive hotels; Hotel Grande Bretagne, where I rested up on the Thursday night. Friday morning came around very quickly and, after a sound nights sleep, I was prepared to embark on my week-long adventure. I made my way to Marina Zea – admiring the beautiful Greek views along the way – where I was to board the luxury yacht and start our adventure in the afternoon. There wasn't huge amounts of people on board, making the experience all the more intimate and, knowing everyone was in the same boat – no pun intended – it was easy to make friends with my fellow cruisers.
On board the ship was Joseph Serafimidis, Director of Operations or Cruise Coordinator, who I became very fond of throughout the week. When on a small ship like this or on any cruise, for that matter, everyone on board is given a briefing every day, informing the passengers of the daily schedule and what to expect from each destination. Joseph was incredibly humorous and lightened the mood during these briefings, making it a lot easier for everyone to take in the information he was supplying. Joseph was also a talented man, speaking in English, Spanish and Greek, showing the true versatility of the Variety Cruises staff and how they adapt to cater to the needs of their passengers. Also on board the ship with his family during our weeklong cruise was Yiannis Vontas, Variety Cruises' Senior Partner, who was carrying out an investigation into how well the trip worked as a cruise, I guess. I became very good friends with him also, and although we had only known each other for a number of hours, when in such intimate surroundings, it's easy to feel as if you've known someone for years. The staff on board were incredibly attentive throughout the week. With trips like this, and cruising in particular, it's expected that things might go wrong. For example, sometimes the weather prevents you from certain stops or activities, yet the Variety Cruise employees almost always found ways around this to ensure everyone on board had a great time regardless and unfortunately, these are just the unavoidable risks of cruising. We soon found that, when certain issues arise, leaving the staff to it and allowing them to get on with their job meant that we could continue on our adventure in no time.
S
o we set off on our journey to the island of Kea, departing via Cape Sounio. I must say, the whole boarding and setting off process was quick, efficient and frankly, stress-free, leaving me with nothing but faith in Variety Cruises for the remainder of the week. On our way to the island, I spent my time admiring the beautiful views that surround Greece; calm blue waters, the blinding sun blurring my view of the horizon and everyone on board taking pictures of the landscapes on their smartphones and digital cameras.
We arrived at the island of Kea at around dinnertime – a couple of hours after setting off on our Greek adventure – where we were given leisure time to investigate the many different areas of the island, and everyone scattered. I decided to end the day with a few drinks, so off I went to a nearby bar, spending the remainder of the evening sipping champagne and admiring the breathtaking views from the window in which I was seated. Others spread to close by restaurants to devour typical Greek meals and get a feel of the island's culture. Of course, lunches and dinners are sometimes provided on the cruise ship, however this depends on what time of day you are docking. We departed Kea in the early hours and sailed to the next island overnight. The cruise ship sailed during both day and night, which mixed it up a little, giving myself and the other passengers some form of diversity (as much as you can possibly have on a cruise ship, anyway) and the chance to experience Greece in all its glory.
We continued along to Mykonos, popularly known for its summer party atmosphere, so I could hardly wait to see all that it had to offer. During our brief previous to our arrival at the island, we were informed of optional excursions for us to venture on. Excursions were available to us at the different islands throughout our cruise, although you do have to pay for these independently – they're not included in the price of the cruise. I think this all depends on what kind of traveller you are; some like to do every single excursion there is, and some don't. I personally would rather enjoy destinations at my own pace and do my own thing, which lead me to walk around the island for the day, experiencing the many different little shops, bars and restaurants. Mykonos was one of my favourite islands to visit during the cruise – closely followed by Santorini – with beautiful streets and white washed buildings; it's a very liberal and exciting place. Santorini is just as beautiful a place, and the approach to the island is even more beautiful. As you pull in to the huge bay, the island towers over you. It was like something from a romance novel – like nothing I had ever seen before and posed the perfect photo opportunity. A smaller, charter boat took us to shore and we were provided with three different options to reach the town; by cable car, foot or donkey.
From Santorini, we sailed overnight to Crete, arriving in the morning and from here, to Kithira and Monemvasia. By Thursday, we had reached Hydra, which was to be our final stop before setting off back to Marina Zea in Athens. I explored each island on foot, spending my days relaxing and strolling in front of the sizzling Greek sun and touring the old cobbled lanes. Some of the evenings we had back on the ship were filled with celebration, the final evening being by far the best – a typical Greek party, which included an outstanding seafood spread, suiting me down to a T as a confessed seafood lover. Local university students also joined us on board, providing us with entertainment for the evening in the form of traditional Greek dancing. It was a great way to end a fabulous week.
As well as making good friends with the on board staff members, I became very close with two couples I met during the trip. The first was a German couple; he was a plastic surgeon and she was a dentist, which I found to be fascinating and we had a lot to talk about. I also met a Spanish couple who were on their honeymoon and we became good friends also. When in such confined spaces, you get to know people's personalities, likes and dislikes very quickly – Carlos loved dancing, which supplied me with a huge amount of entertainment day in, day out. I'm still in contact with these two couples now, months after my trip and have made friends for life.
 Inspired Travel caught up with Director of Operations, Joseph Serafimidis, to find out more about Variety Cruises…
"This is my seventh season with Variety Cruises. I've only ever done the Greek cruises, but I like them – I don't even feel like it's a job. I begin with the off-season Greek cruises, for instance the themed cruises, which are quite popular for the British tourists. We start at the beginning of May, sometimes mid April; it depends. Last year, for example, it was mid April till mid November. As Cruise Coordinators our job most of the time is to stick on a specific ship but we do change over. For example, this season I have been on all the boats. Including the three small yachts, we have twelve ships. Eight of them are around 50 metres, which a capacity of around 49 passengers. Our flagship, The Voyager can hold 76 passengers (she is considerably bigger), and we have the three smaller ones, which are for 9 to 10 people with a 3-member crew.
Our demographic mostly depends on the passengers' economic status. The majority are aged 50 plus, so it's a combination of both. At the beginning of the season people of an older age tend to cruise because they don't tend to like the heat that comes in the summer months, plus they have the luxury of not working around that time of year if they are retired. Mid summer season is when we tend to get the younger demographic. We get a lot of passengers from the US and, in particular over the last couple of years, Australians and New Zealanders. For the last couple of years, Europeans haven't tended to come on the cruises a lot, which may well be because of the economic problems hitting that region of the world.
Variety Cruises a family-run company, which has its advantages and its disadvantages. There are so many more advantages though. For instance, it's very laid back; there's not much hierarchy in that the way we treat our guests is also how we treat our staff. We want our staff to be as part of the cruise as our guests, so it's not like one of those huge cruises with hundreds of crewmembers. Being on a small boat you cannot do otherwise. We all live and work together in a small space, so if you added the extra pressure of a boss-employee hierarchy, it would become impossible.
This is a very niche market, which is becoming more and more popular. Since I started 7 years ago, it was going very well; tourist wise, these were better times, but against the logic, the company is expanding. There's really no competition. In Greece, and even across the world, there isn't a single small cruise line that's got our style. The only comparison you can make is when hiring a yacht yourself, making us a very unique experience. People who choose to travel on a small vessel need to be flexible, and come expecting a laid back but professional experience."
A Greek Adventure… Continued