A Taste of Life at Lake Garda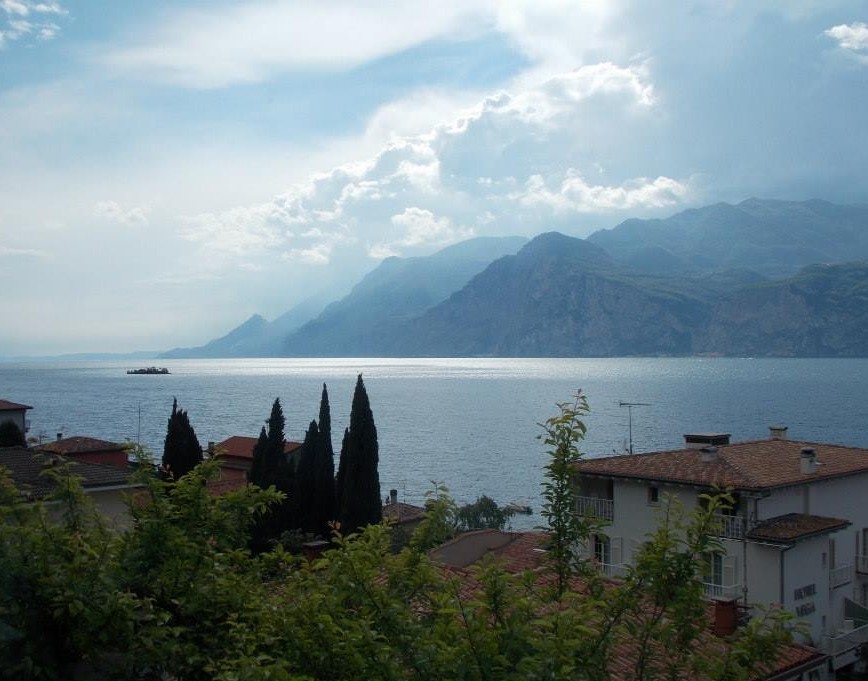 Zoe Thomas returns from the Veronese Shores of Lake Garda to tell us of her experiences with olive oil, tortellini and wine tasting…
Day One
Beyond the plate-glass windows of the Vecchia Malcesine Ristorante, a ray of sunlight escapes from the stormy sky and casts a godly light over Lake Garda. On the far shore to the north, the Alps give way to blue-green water where little sailing boats whip along in the breeze, dwarfed by the dramatic backdrop of snow-peaked mountains that border nearby Switzerland. It's hard to believe that just four hours ago, I was sitting at Stansted airport eating a stale croissant.
I've escaped England for three days of the Fish & Chef festival in Italy, celebrating natural produce grown, caught and reared in and around the soils and waters of Lake Garda. Famous Michelin-Starred chefs have travelled from all over the country to host evenings in Malcesine, Garda, Peschiera, Cavainon Veronese and Bardolino, where they will inject their foodie flair into traditional Lake Garda ingredients.
Today and tonight, my home is Malcesine – a medieval village that clings to the foot of Mt Baldo in a jumble of terracotta roofs, narrow cobbled streets and peaceful little squares bustling with shoppers, playing children and pensive locals sipping coffee. Before I explore the village, I'm making a pit stop at award-winning chef Leandro Luppi's restaurant to sample some local food and take in the building's spectacular view over the lake. A 'light lunch' soon turns into a six-course spread, with free flowing wine and some unusual combinations – most notably wasabi ice cream served alongside Lake Garda trout, which I conclude is bizarre but supremely delicious. Dessert comes in the form of a summery mango sorbet pudding on a tangy, creamy mousse, garnished with fresh flowers and a sprinkling of dried raspberries. The feast finally comes to an end (only a few hours before dinner time) with a long espresso and a big wodge of homemade biscotti – which I gallantly manage to find room for.
With a pleasantly full stomach and a slightly woozy wine-head, I leave Leandro's little slice of paradise and meander through the village towards the castle, which juts out precariously from a rocky hillock over the lake. I immediately feel like I've been transported into a Shakespearean romance, surrounded by ancient castellated walls covered with creeping ivy, fertile gardens, lush green lawns and the defense tower standing proudly above the village, offering a spectacular vantage point over the lake and surrounding mountains. At any point I expect Romeo to come calling for his Juliet.
After exploring all of the castle's ancient nooks and crumbling crannies – and after a quick look around the cleverly curated museum explaining the history of Malcesine, I decide to head back to my hotel for a quick rest (and to let lunch go down) before it's time to start eating all over again.
Hotel du Lac sits right on the edge of Lake Garda just south from Malcesine, where the clear waters practically lap at its terraces. I'm in the executive suite complete with a four-poster bed and a huge balcony overlooking the lake. With the sun beaming down on me, I head to the beach to dip my toes in the icy water. In the height of summer people come to Hotel du Lac to sunbathe on the pebbly beach, jump off the jetty and swim in these safe, calm waters. As spring is only just taking hold here and snow still glistens from the mountaintops, I decide to leave the full submersion for another trip.
Tonight, we are being fed by 1* Michelin chef Felice Basso at the Hotel Baia Verde. Fish & Chef is all about making fine cuisine accessible to everyone, while at the same time introducing top chefs to the produce of Lake Garda. True to Italian tradition, small but perfectly formed dishes roll out at a leisurely pace for four hours, accompanied by a generous selection of wines from nearby Cavalchina. As a dedicated pasta lover, I have to mention the fourth course: a dish of fresh Tagliatelli served with trout from the lake and a creamy pea mousse garnished with crispy bacon. It's divine. Another dish that lures my taste buds into a blissful coma is an ox cheek casserole with potatoes and almond sauce – cooked to a level of perfection I'm sure I'll never experience again. After eight exquisite courses, including my second long espresso and biscotti of the day, it's time to head back to my hotel for a short but comfortable sleep in my giant bed, before day two of my luxurious Italian jaunt.
Day Two
I'm up bright and early – 'up' being the appropriate word, considering the fact that I'm hanging above Malcesine at the dizzying height of 1,800ft, watching the lake get smaller and smaller as our cable car zips up the mountainside.
If you can handle heights, a trip up Mt Baldo in a cable car is a must. Choose a clear, sunny day to avoid disappearing into a great expanse of white, and go early before the tourists descend. Vital equipment includes sunglasses, a camera, and most importantly of all, a jumper. It was 21ºC on the ground before our ascent. Up here in the mountains, there's snow on the ground and the mercury's on 1º with an icy wind – not somewhere you want to hang around in your shorts for too long. Luckily, there's a café up here serving hot drinks and food so visitors can admire the incredible panorama with the added bonus of central heating.
Twenty minutes later and I'm back on the sun-warmed ground, peeling off my layers and marveling at how small this town looks from nearly 2km above. My next stop is Paulo Bonomelli's Olive Oil Farm, located in an ancient village called Torri del Benaco, a few miles south of Malcesine. After a quick look around the Roman harbour, with its sapphire blue waters and stunning classic architecture, I head up the hill past olive groves and pines, up to the farm where we meet the family producing some of the highest quality extra virgin olive oil in Italy.
The Ca'Rainene farm covers an area of 16 hectares with over 3,500 olive trees growing under the watchful eye of specialised agronomists. Everything here is done with absolute passion and precision to ensure each batch of olive oil is perfect. The harvest takes place at the beginning of 'veraison', which is when the fruit begins to ripen and the olives reach maximum concentration of just the right elements and nutrients. The fruits are then ground by hand strictly within eight hours of the harvest, with each part of the process monitored and controlled carefully to ensure everything is executed correctly. This video by the farmers at Ca'Rainene gives you a taste of the process.
I soon find myself with the resulting product glistening in a blue glass in front of me. It's time for the tasting. As wrong as it feels to be taking a big gulp of olive oil, I go along with the ride and am almost knocked over by the taste: a potent blend that is rich and fruity like freshly mown grass, with a spicy kick that gets you in the back of the throat and burns in a strangely satisfying way for a long while afterwards, like a good whiskey.
Find out more about Ca'Rainene farm on their website, or by calling 0039 045 6296711
Armed with three bottles of olive oil to squeeze into my suitcase for lucky friends and family at home, I take leave and head on to another 'light lunch' at Locanda Moscal in Affi, where I am served the best gnocchi I have ever eaten – beautifully buttery, melt-in-your-mouth delicious, before the main course of lake trout and mash. Simple, rustic – but oh so tasty.
Fuelled with food and wine, I head off to my next stop: a winery nestled amongst 100 hectares of vineyards known as Cavalchina, where 600,000 bottles of fine world-renowned wines are produced every year, including the white wine Custoza, which has been rated as excellent by critics all over the globe.
Among the twelve wines I try, the one that stands out most is Amadeo, a modern wine that came into being in 1994. This is the flagship wine of Cavalchina and it's clear to see why. First of all, it is an easy wine – easy and fresh to drink, with no headiness, no hitting the back of your throat. It just slides down coolly, leaving an aromatic aftertaste that lingers pleasantly. This freshness is down to the way it was made – with grapes that have been frozen to enhance the freshness of the fruit, before being ripened in steel vats and lightly aged in barrels.
Find out more about Cavalchina on their website, or by calling 0039 045 516002
Before my second Michelin-Starred dinner of the trip, I head to my new accommodation for the night: the 4* Aqualux Spa hotel in Bardolino – a sprawling 'eco' hotel with a modern glass frontage and eight pools I know I won't have time to try out. My room is airy, modern and equipped with a large balcony overlooking the pools. After a quick but rather luxurious power shower, I don my glad-rags and head out to the Hotel Villa Cordevigo 5* in Cavaion Veronese.
As the car makes its way along the long driveway between lush vineyards, the setting sun glows low and bright on the horizon, casting an amber light over the converted 16th century Venetian villa. It is a beautiful building centred around a cultivated courtyard and painted with rich tones of yellow, red and terracotta. Upon my arrival I am shown around the luxurious hotel with its Rococo décor and premium finish – including bathrooms made entirely from marble. Next, I am privileged enough to be given a tour around the ancient Saint Martin Chapel, where I can feel the heaviness of time in the musty air. Here our guide informs us there are 3,000 relics stores in its thick stone walls, which include a rather macabre human skull.
Dinner tonight is cooked by 2* Michelin chef Antonio Genovese who had flown in from Rome that morning. He cooked up another outstanding feast consisting of eight creative courses, which again starred lake trout, this time with a red wine, beans and marrow sauce, and pasta tubes with ox tail.
After an espresso, I headed back to my hotel in Bardolino and drew the curtains on yet another fantastic, food and wine-filled day.
Day Three
There is sadly no time to even dip my toes in the infinity pool: I wolf down a quick breakfast, pack my bags and leave to squeeze in as much as possible before my afternoon flight back to London.
My first stop of the morning is a boat trip around Peschiera del Garda, a fortified town built on an island on the river flowing out of Lake Garda. The town is steeped in military history so if you'd like to find out more about the battles in this region, a daytrip here should certainly be on your itinerary. Another must-visit during your stay is Borghetto, the 'ancient village of mills' near the ford across the Mincio river. Here you can see where hundreds of lovers have attached padlocks to the steel bridge to permanently declare their affections for one another. The streets are cobbled and inherently Italian, with potted geraniums and shuttered windows on old stone houses looking out over the river.
After a leisurely amble beneath the warm spring sun, I head onwards to my last Italian meal of the trip. This is the part I had most been looking forward to: fresh tortellini tasting in a traditional restaurant in Valleggio Sul Mincio. Upon entering the old stone building, the first thing you see is an open fire burning in a furnace in the middle of the kitchen. Chefs clatter around it, rolling out huge strips of pasta before stuffing them with paste and twisting them into knotted tortellini shapes with lightning-quick fingers.
Three courses of tortellini await us, each offering a different filling. We start with a delicious creamy asparagus, before moving onto a robust meat filling, and finally, my favourite: pumpkin and marzipan – a very sweet, rich combination of ingredients that work together perfectly and leave me wanting to take the recipe home.
And so, after feasting on real Italian tortellini and downing the last dregs of real Italian wine, my weekend jaunt comes to an end and, with a heavy heart and a very full stomach, I head back through the beautiful countryside to Bergamo airport and vow to go on a diet the moment my plane touches English soil.