Cruise to Dubai: the City of Gold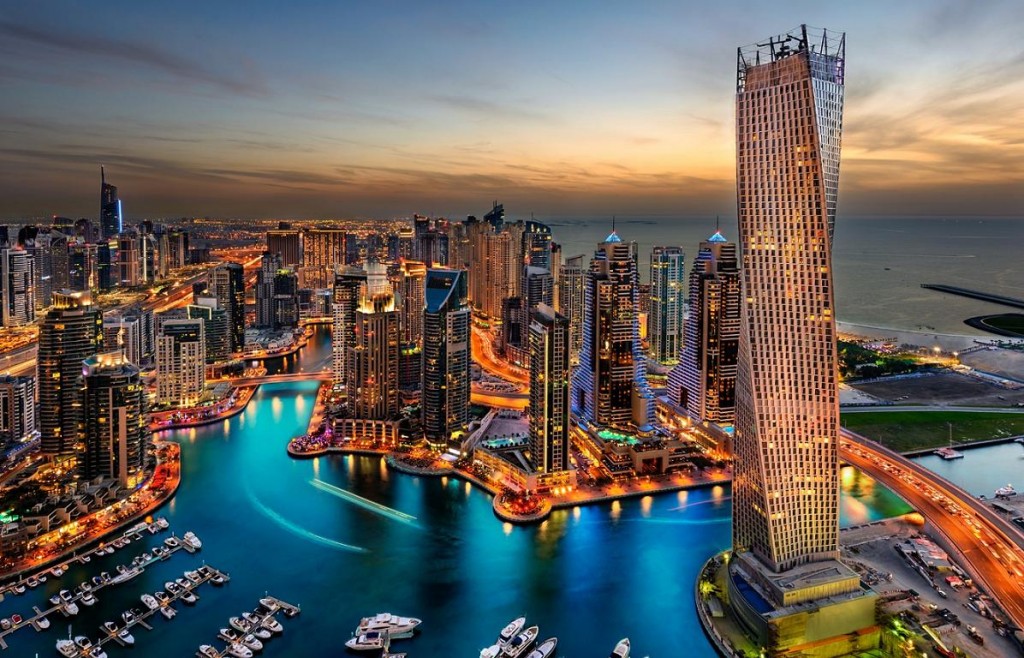 Discover Dubai's shimmering cityscape from the water
t
Dubai rears up from the Arabian Desert like a glimmering mirage: an oasis of shopping malls, stylish restaurants and towering skyscrapers. In recent years it has transformed from an unassuming fishing port into a colossal metropolis – a thriving centre for global business, finance and culture. Now Dubai, nicknamed the City of Gold for its incredible wealth, has opened its ports to the international cruise industry in order to welcome sea-faring visitors with open arms. Thanks to a new Cruise Arabia partnership between Dubai's Department of Tourism and Commerce Marketing (DTCM), Oman Tourism and Abu Dhabi Tourism, it will soon be easier than ever for cruise passengers to explore the Arabian Gulf in the most luxurious way imaginable.
---
Why cruise to Dubai?
Dubai is well known as the shopping capital of the east, but this wealthy Emirate isn't all about shopping. It also boasts some of the world's best restaurants, bars, galleries and museums – not to mention glorious sunshine all year round and plenty of outdoor activities for those who crave adventure. Speaking at the recent Cruise Shipping Miami event, Hamad bin Mejren (Executive Director at DTCM) said:
"In recent years the Dubai leadership has invested heavily in the development of the cruise sector, resulting in Dubai becoming recognized as a leading cruise hub."
Sultan Al Dhaheri (Acting Executive Director at TCA Abu Dhabi) added:
"Abu Dhabi, Oman and Dubai represent a strong and captivating regional destination that can compete with the world's primary cruise hotspots."
The port is close to the centre of the city and boasts excellent transportation links so all the attractions of Dubai, so they're just a short journey away for cruise passengers.
There is certainly no shortage of things for you and your fellow passengers to do once you reach dry land. Shopping in Dubai is something all visitors – even those averse to traipsing around shops, must try during their trip.  Where there's an abundance of money, there's going to be an abundance of places to spend it, and malls in Dubai are in such fierce competition that many have become attractions in their own right. Each one is bigger, better and more fantastical than the last. For this reason, shopping in the City of Gold is a unique experience – and a breathtaking one at that. In the Souk Madinat for instance, shoppers can get around the many souk-style stores via a winding waterway, and at the enormous Mall of the Emirates there's an indoor ski slope for anyone who fancies a pit stop between shops. At the Dubai Mall – the biggest mall in the world, you can stop for a designer coffee at the Armani café, or even seek an adrenaline rush at the indoor theme park.
There is much more to Dubai than shopping and once you've seen the malls, it's time to head out of the city and into an adventure. Beyond the astonishing skyscrapers, there's a rugged coastline and a breathtaking desert to discover. If you can tear yourself away from the luxury of your cruise ship, why not hire a 4X4 and drive into the desert for a spot of camping? Between golden dunes you can pitch your tent, light up a barbeque and relax beneath the stars. The next day, you can make the most of those sloping dunes and opt for a spot of sand-boarding and hair-raising offroading, or you can head back to the coast, hire a kayak and explore the Gulf's beautiful clear waters. If you're feeling very adventurous, there's an enclave beyond the private beaches in the centre of Dubai that is becoming increasingly popular with kite surfers, so if you have time, get down there and give this extreme sport a go!
There has been a great deal of investment pumped into the tourism sector all across the Arabian Peninsular in recent years, making it a prime destination for cruise lines. Royal Caribbean International has recently announced its return to the Gulf after four successful seasons, offering 16 round trips between December 2015 and March 2016. The Splendour of The Seas offers plenty of enriching daytime activities, lively nighttime entertainment and sophisticated restaurants – so you can enjoy top quality luxury even en-route to the dazzling City of Gold.
---