Meet the Rolls Royce of Glamping!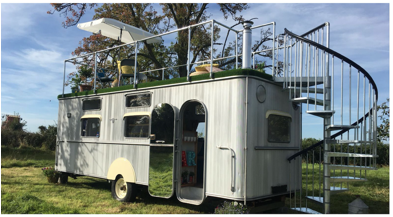 Ali and Rich, from the Glamping Orchard, are excited to finally reveal their extremely rare, 1950s Warwick Knight caravan and invite guests to join them for a luxury short break or holiday in Gloucestershire.
"Their Knight", which was once deemed to be the Rolls Royce of caravans, is believed to be one of only three left in the world and quite rightly takes center stage in this new Glamping venture.  They, to provide their guests with a unique holiday home and the most glamourous of camping experiences, have lovingly restored him. They've even re-created the elaborate roof garden, that once adorned the Warwick Knight at an exclusive Earls Court exhibition in 1952, here guests can even stretch their legs, or sink into a beanbag, up on the lush rooftop lawn while enjoying views of the River Severn or the starry skies above.
It's all a far cry from when Ali and Rich first stumbled across this antique vehicle, which they affectionately called their "cattle shed on wheels". Not all knights come with a shining armour, they soon discovered, and this one came as a green algae covered aluminium box, dilapidated and full of debris with a fallen-in roof.  Armed with Ali's animated enthusiasm, Rich's realistic plans and a vision of what could be they undertook seven months of long hours to restore and transform "their Knight". They even got a little help along the way from the legendary George Clarke who filmed the entire renovation for his Channel 4 series Amazing Spaces. Together they have lovingly bought this beautiful van back to life and correctly reinstated him to his lofty, regal status as the Rolls Royce of caravans.
Finally finished, their vision has been realised, and they are both excited to see their Warwick Knight permanently settled in his new home in their Glamping Orchard surrounded by the magic of the Cotswolds.  The roof has been raised, windows have been added, and the layout has been meticulously planned to create a magnificent sense of space and this unique caravan now offers glampers a luxury stay with more than ample room for a family of 4. Inside there's a large, cozy seating area, complete with a crackling log-burner is the hub of the caravan and a fully operational kitchen with plenty of worktop space if you don't want to cook under the stars. The sleeping area is separated by sliding doors so that you can read a book or have a drink by the fire when the kids go to bed.  The sleeping areas include funky bunk pods for the kids and a comfy double bed for 2 adults with fantastic orchard views and luxury linen. A charmingly rustic shower-on-wheels is adjacent, as is the compost loo.
Ali says "We feel so privileged every time we stay in the Warwick Knight Caravan. It is the best feeling, and we all get excited tummy flutters as the space inside and the roof garden are magical.  So magical in fact, that we have made the decision that we would like to share him out to guests who can come and stay and have their own experiences and create happy memories of their own. From next spring our Warwick Knight will be available to rent for the weekend, mid-week and weekly stays. Visit www.glampingorchard.co.uk to find out more and we hope to welcome couples and families to come and stay soon."
Meet the Rolls Royce of Glamping!