Respite from the City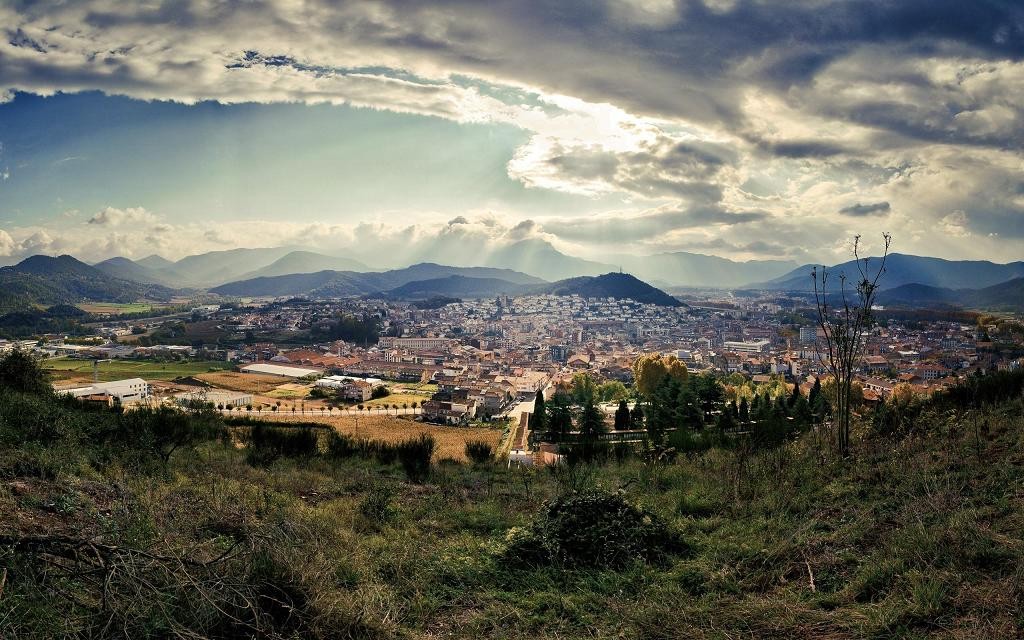 If you're feeling burnt out by your city break, a green escape may be closer than you think
Here we have some examples of beautiful parks you can escape to when the hustle and bustle of the city has become too much and you need a rest from your hectic sightseeing schedule. Some of the world's greatest cities have stunning national parks right on their doorstep, so a soul-soothing day is just a short train ride away.
---
Near London – South Downs National Park
In little more than an hour, you can get from the centre of London to the highest point in East Sussex: Ditchling Beacon. Feel as though your walking on top of the world as you admire panoramic views that stretch out over the Weald.
If your feeling ambitious, you can walk or cycle from its 248 meter-high summit down to Beachy Head and stand atop the dramatic chalk cliffs that rise to an impressive 162 meters out of the seas below. Along the way, you'll get a glimpse of the landscapes that inspired Jane Austen, who lived not far from here: on one side, the stark white cliffs of Seven Sisters, and on the other, rolling fields sprinkled with sheep and hay bales. Idyllic.
With all that walking and cycling, you'll no doubt work up quite a thirst, though. So it's just as well the area is well stocked with charming country pubs that you can stop off at along the way! One watering hole we highly recommend is The Tiger Inn at Beachy Head.
How to get there: A direct train from London Victoria to Hassocks takes just 48 minutes, and then a 4 minute bus journey (No.168) will take you to Ditchling, where you can start your ascent of the beacon.
---
 Near New York City – Harriman State Park
Just over an hour's journey on the road can take you from the cluttered centre of New York city to the airy expanses of Harriman State Park. Boasting over 200 miles of hiking trails, 36 lakes and ponds, and even two public beaches, this park offers the perfect head-clearing escape for New Yorkers.
You might like to take yourself off for a hike along the 7.5-mile Island Pond/Lemon Squeezer Loop, which touches upon the famous Appalachian Trail. You couldn't feel further from the city!
How to get there: If going by bus, you'll want to leave from Port Authority Bus Terminal. Take the Short Line bus to Southfields, asking to be dropped off at Arden Valley Road, next to a "Welcome to Harriman State Park" sign. Take a right on to Arden Valley Road, go across the bridge over the NY State Thruway, and then follow the white A.T. markers until you see signs for Lemon Squeezer.
For more information, visit the website
---
 Near Sydney – Ku-ring-gai Chase National Park
The exotic beauty of Ku-ring-gai Chase National Park lies just outside the city. So if you've made it all the way to Sydney, you may as well go the extra 40 minutes to dip in the waterfall-fed pools and relax on Resolute Beach. Or if the claustrophobia of the city has left you feeling a little restless, you'd be well advised to take an inspiring hike in the Upper Gledhill Falls or go for a cycle along the breathtaking route from Mount Colah Station to Pymble Station. The possibilities for outdoor fun are endless!
How to get there: The park is just a 40-minute drive from downtown Sydney and is open from sunrise to sunset. There's an $11 entry fee per vehicle. If you go by bus or taxi, the daily entry fee is $4.40 per adult and $2.20 per child.
For more information, visit the website
---
Near Seattle – North Cascades National Park
With Olympic National Park to the west, Mt Rainier to the south, and North Cascades National Park just two hours to the north, Seattle is spoiled for choice. With all that stunning natural beauty within a stone's throw, you can begin to understand why Seattleites put up with all the rain!
Believe it or not, within the borders of North Cascades there sit 300 glaciers. There are also numerous lakes in which to dip your toes and hikes that take you up into the heavens without requiring heavy gear or even a lot of time.
The four-mile Blue Lake Trail is moderately easy and provides you with unforgettable views of Liberty Bell Mountain and South Early Winter Spire. For something a little more challenging, though also more scenically rewarding, you can attempt the seven-mile Maple Loop Pass.
How to get there: Take 1-5 N to State Highway 530, then turn right on to WA-20 E into the park. The entry fee is just $5 for the day.
For more information, visit the website
---
Near Hong Kong – Sai Kung East Country Park
Just an hour northeast of the glittering skyline of Hong Kong are the glittering shores of Sai Kung East Country Park. Home to the most beautiful beach in Hong Kong, Long Ke Wan, this slither of paradise is the perfect place to go to get away from the clutter and noise of the city. Leave behind those stressors as you get lost in unusual rock formations and inviting sea caves. Be sure to bring food and water, though, because there's nothing here but immaculate stretches of sand and calm blue-green waters.
How to get there: The MTR Bus will take you to Diamond Hill (Kwun Tong Line). Then, either take Exit C to bus terminals and hop on a green minibus (1A to Sai Kung), or follow exits to the taxi stand and hire a red taxi to Sai Kung. Once at Sai Kung, change to a cheaper green taxi the rest of the way to the entrance for Long Ke Wan.
For more information, visit the website