Bloodless Bullfights Introduced in the Balearics
New rules introduced last week mean that the only "tools" allowed in the Bullfighting Ring are the bullfighter's capes – the capote, and the muleta. In addition, each bullfight will last no more than 10 minutes after which time, the bull trots off unharmed back to the ranch – great news!
The new bloodless bullfighting rules shows that a full ban on bullfighting is not strictly necessary and that compassion can win the day where there is strong public and political will to end animal cruelty. A recent survey in Spain shows that bullfighting support is dramatically dwindling, especially among millennials, with over 60 percent in favour of a ban on the activity.
The new bullfighting law has been applauded by animal rights groups. Joanna Swabe, of animal rights group Humane Society International, applauds the result saying: "Taunting and killing bulls for entertainment is a brutal anachronism and so this is a very satisfying victory for compassionate policy making."
Jannich Petersen, CEO of Spain-Holiday.com also welcomed the news stating: "The majority of overseas holidaymakers visiting Spain look to experience most all aspects of Spanish lifestyle and culture but there seems to be a shift within Spain away from the tradition of bullfighting. To be able to watch and experience a bloodless Spanish bullfight would open the spectacle to a much-varied audience including families and offer a unique insight into the skill of the torero and the power of the bull."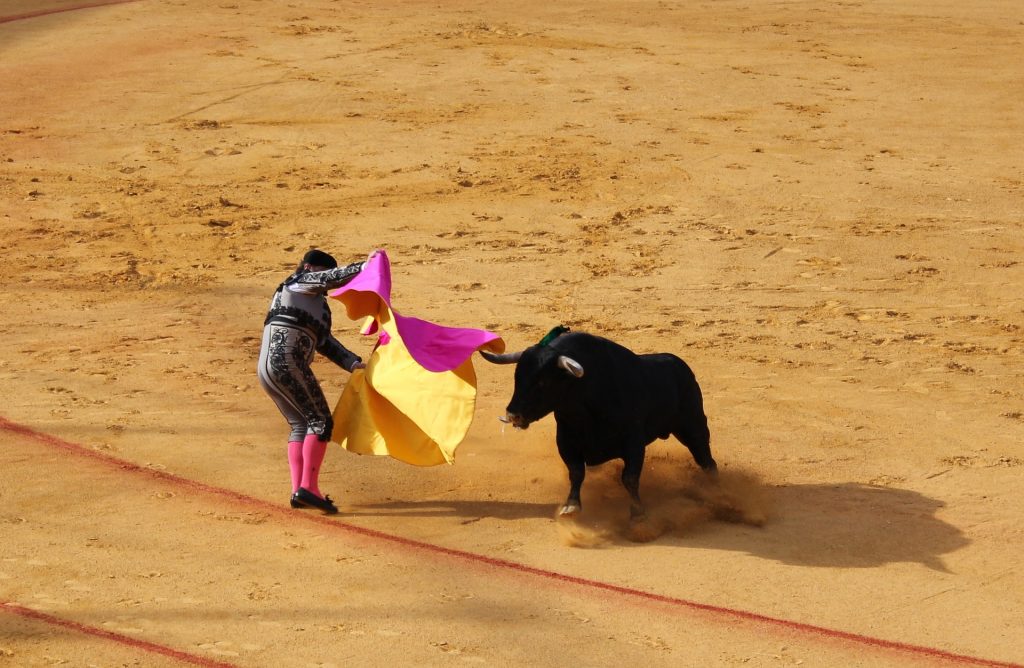 However, not everyone is happy with the regional Balearic Government's decision; bullfighting was declared part of Spain's cultural heritage in 2013 and the Spanish government opposes the new law introduced locally in the Balearic Islands of Ibiza, Majorca and Menorca, claiming it goes against the constitution and powers of the state.
Last year, the Spanish Constitutional Courts overturned a 2010 local law in Barcelona and Catalonia banning bullfighting for animal cruelty reasons. To date, the only other Spanish region to have successfully banned bullfighting is the Canary Islands.
Several cities have put a stop to bull running at their annual festivities. One Madrid village, Mataelpino, came up with an inventive alternative to their annual bull running events, similar to the famous San Fermin running with bulls. In a scene reminiscent of Indiana Jones, the festival goers attempt to outrun a 200 kg polystyrene boulder – El Boloencierro – hurtling towards them as part of their annual fiesta taking place on the weekend of 18-20th August. While it doesn't have the same dangers as running with actual bulls, injuries can still happen during the Boloencierro, with a few instances of hospitalisation for concussion each year.
The Spanish Government intends to attempt to overturn the new law in the Balearic Islands but for now, 30 towns across the Balearic Islands, along with the international community, have voiced their support of this new measure to halt the bloodshed in bullfighting.