Health Holidays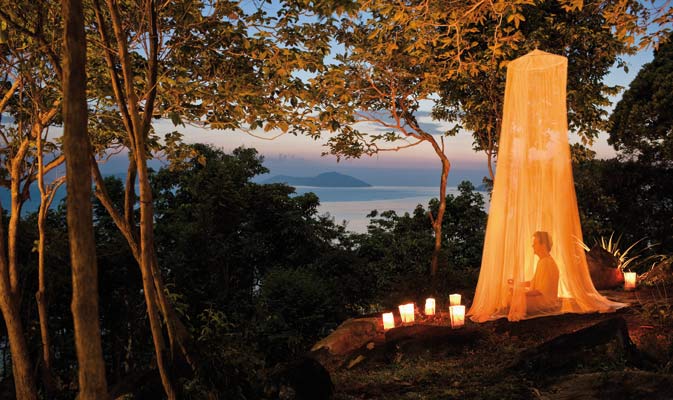 Top health destinations of 2015
Going on holiday can be bad news for the waistline. All-you-can eat buffets, cocktail happy-hour and the tantalising prospect of lying sedate on a beach all day can quickly cause the pounds to pile on. But not every overseas jaunt has to end with a week-long hangover and trousers that don't fit. More and more resorts and travel companies are offering a new kind of break that promises to leave you feeling better and looking leaner: health holidays. From holistic retreats in Thailand, to personal training sessions in Java, there's a world of fitness opportunities out there for all tastes and abilities. Why slog away in your local gym when you could be doing Bootcamp on a beach in Greece, or boxing in Zanzibar?
There are thousands of healthy holidays to choose from in 2015, whatever your age, goals, or fitness level. Here are just a handful that get our feet itchy!
---
Detox in Thailand
Just off the east coast of Thailand there lies an island called Koh Samui, where coconut palms grow in a dense jungle bordered by white sandy beaches. The name of the island is thought to be a corruption of the Chinese word 'Saboey', meaning 'safe haven'. Originally inhabited by Chinese fishermen 15 centuries ago, Koh Samui is today a thriving tourist destination, favoured for its glittering lagoons, entrancing waterfalls and magnificent coastline, which is peppered with jungle-topped granite rocks towering from the sea.
Hidden away from the main tourist towns of the island is Kamalaya, an holistic yoga retreat designed to cleanse the mind, body and spirit through specially designed detox programmes.
Kamalaya is set out like a self-contained village, with stilted buildings overlooking the bay. It was built to be sensitive to the environment, relocating trees and using sustainable resources wherever possible. The gardens are watered with recycled waste water and all bathroom amenities use 100% natural ingredients. Choose from programmes that focus on wellness, stress and burnout, weight control or healing, while enjoying the resort's luxury facilities, including a variety of restaurants and lounges, a fitness centre, herbal steam cavern, plunge pools, yoga pavilion and Elixir bar.
Seek inspiration at the resort's private art gallery, which features stimulating exhibitions from some of the region's most esteemed artists. Bookworms will love the library, while introverts will find peace and solitude in the Monk's Cave.
Visit the Kamalaya website to book your next escape
---
Weight Loss in Java
Losing weight can be a challenging and isolating experience. Ease the pain by flying to MesaStila retreat in Java, where private fitness training, personalised diet plans and daily massage could help kickstart a long-term healthy lifestyle.
At the heart of a sprawling coffee plantation, escape noise, crowds and pollution to concentrate on you and your health. Enjoy Javanese-fusion food cooked using local and organic produce, which includes masses of fresh fruit, vegetables, fresh fish and shellfish. Alcohol and smoking is limited.
During the day you can try a variety of core wellness programmes, including traditional martial arts, yoga, hiking, TRX, Jungle-Gym, biking and – to soothe the aches and pains – daily massages and Hammam steam baths.
MesaStila consists of twenty-three villas set in an area of outstanding natural beauty, surrounded by mountains, tropical gardens and lush vegetation. After a day of strenuous exercise, you can relax in the luxurious spa and indulge in a variety of holistic therapies. Retreat to your private villa with sunken marble bathrobe, veranda overlooking the the Ambar volcano and snuggle into you gorgeous four poster bed, letting your worries wash away.
Visit the MesaStila website to organise a well-deserved break
---
Triathlon Training in Cyprus
Combine a stay in a luxury boutique hotel near Paphos Harbour in Cyprus, with a high-intensity fitness regime overseen by champion athlete Kypros Nicolaou. In between 10k cross-country runs, guided cycle rides and Mediterranean sea-swims, guests can enjoy full run of this stylish resort, complete with eight acres of landscaped gardens and panoramic ocean views. After a long day of strenuous exercise, head to Almyra's spa for a quick dip in the outdoor infinity pool, salute the sun on the yoga deck, sweat it out in the sauna, or spruce up your look in the hair salon.
Beyond the retreat itself, Paphos awaits exploration. Rich with ancient history and myth, the coastal city offers plenty to see, including the remains of palaces, villas, theatres and fortresses built in Classical, Hellenistic and Roman times. Brush up on your facts in the Byzantine Museum and District Archaeological Museum, or head off for a spot of shopping at Kings Avenue Mall to reward yourself for all the hard work.
Visit the Almyra website for your Mediterranean retreat
---
Revitalise in Zanzibar
Discover a fitness retreat nestled in the breathtaking Chwaka bay in Tanzania, where you can exercise by the crystalline shallows of the Indian Ocean. Wildfitness coaches will take you through a course of diverse core exercises throughout your holiday, starting with an initial assessment looking at body composition and specific movement patterns and running. Two to three training sessions a day will include boxing, kettle bells and wild running, ending with a revitalising massage.
Rooms are equipped with a private veranda or balcony overlooking the sea, and WiFi is complementary. All food is sources locally and organically, and includes fresh fish sourced straight from local fishermen. The fruits and coconuts, too, come from the surrounding trees, supporting the local ecosystem sustainably.
Guests can enjoy a few days off from their fitness regimes, giving you time to explore the local attractions, including the Jozani Forest, home to the fascinating Red Columbus monkey, water sports incuding kite surfing, water skiing, swimming with dolphins and snorkelling, as well as tours of the local village.
Visit the Wildfitness website if you're feeling energetic