Sun, Sailing and Snorkeling in Antigua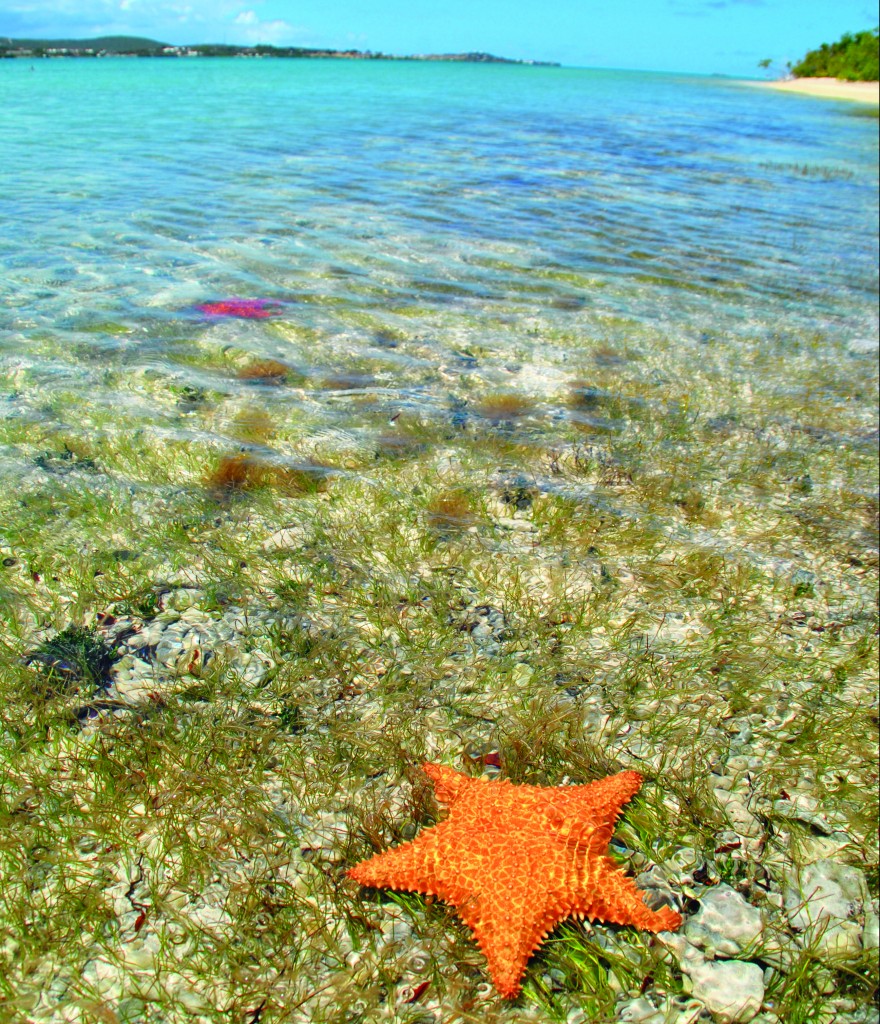 Jenny Ardagh visits this year-round sailing destination to experience laid-back life on the island
Antigua is located in the cluster of the Leeward islands and, although small, is utterly beautiful with a lot to see and do.
Antigua is most renowned for its 365 white sandy beaches – one for every single day of the year. However, the beach is certainly only the beginning. With so much luxurious coast, you will be spoiled for choice as to where to soak up the sun. From water-skiing to sunbathing, there is something for everyone here.
---
Snorkeling
Cade's Reef is a paradise for sea life. If you want to see the most active underwater world known to Antigua, then take a trip out to the reef, which is only a quarter of a mile off the shoreline – so not a deep-water diving experience, but one that can be admired just from the surface simply with a snorkel and mask. The water is so clear that even bobbing on the surface of the water from a boat will give you a spectacular underwater show. There are many different dive sites with coral canyons, wall drops, sea caves and wrecks, home to all manner of exotic marine creatures and tropical fish, including almost 400 species of Caribbean reef fish.
If, like most who holiday in the Caribbean, you enjoy the view of the water from the white sand beaches, or a quick dip more than being in the deep yourself, then I can recommend some equally fantastic opportunities to see the wonderful marine life with the choice of returning to your sun lounger to catch more of the rays.
As a frequent and also recent visitor to the island, I highly recommend Galleon Beach for this. Just from sitting on your lounger you have the delight of seeing even the rare spectacle of sea turtles. With just a few steps in to the water you will see a wonderful array of fish, all different and vibrant colours that really are comparable to those you would see on the reef.
Just North of Dickenson's Bay, close to St. Johns, lies one of the island's best snorkeling spots called Paradise Reef. This is a 1.5km-long (1-mile) coral garden of stunning beauty, easily accessible from the bay itself and one not to miss if you're in the area. If you're looking for a bit more, then you can also visit Sting Ray City. Set just off the coast, only a short speedboat ride away from their base on the east coast, you can stand in a shallow, natural pool surrounded by coral reef where you can swim with, touch and feed the magnificent rays yourself.
---
Water Sports
For those with a passion for water activities, Dickenson Bay offers the best parasailing. However, windsurfers would be best served by the rough Atlantic Ocean waters along Half Moon Bay. Jolly Beach resort in Tranquility Bay also offers a large range of water sports, such as banana boat rides, water-skiing, parasailing and paddle boating. Make sure you get yourself on a jet ski to really feel the tropical wind in your hair and see the landscape of the bay in all its beauty.
---
Boat Tours: Sea Escapes
Whilst in Antigua, I had the opportunity to go on a Sea Escapes half day boat tour, the 'Island Hopper'. I was picked up from Jolly Harbour, where I was staying, at 8.30 am, after which we picked up the rest – around eight others, from the capital of St. Johns. Getting on the boat initially was in itself an experience. I was wowed by the innovative and unique look of the vessel, with its space-age shape, flawless design and glass bottom (I knew this would become useful as we set off onto the reef!). With Bob Marley blasting out from the speakers, we put on our flippers, life jackets (just in case) and snorkel gear and got in the beautifully clear, blue waters. A guide came in with us who gave us just the right amount of freedom, as well as showing us anything interesting that he saw. The boat itself is also equipped with an automatic fish feeder, which brought all manner of sea life right to us which made for a wonderful show filled with different sizes and colours of fish. The best part was that, for those on board who didn't necessarily want to get in to the water, they simply did not need to – they could clearly see all the sea life they wanted through the glass bottom of the boat. This is just one small addition which makes all the difference for those who either find it hard to swim, those with small children, or just those who don't want to get wet!
We then went sightseeing, stopping at the most idyllic beach I think I have ever been to on Prickly Pear Island. Here we saw an abundance of star fish just off the beach and had a home-made lunch free with all the rum punch you could possibly consume, as well as a choice of soft drinks and beer. We also stopped at Bird Island, where Antigua's national bird, the Frigate, resides. Here, we climbed up to the highest point to look over the magnificent views and see the caves. Be sure to bring your camera as the views are phenomenal and if you're worried about getting it wet or damaged, don't be. The staff on the vessel are all hugely accommodating, trustworthy and extremely kind and will help you every step of the way if needed: I didn't even need to ask for my camera to be safely transported from the boat to the beach, it was just done with the famous 'no worries' attitude that you find all over the island.
Not only did we do all these exciting things, but we also had plenty of time to relax in the water to cool down, or sunbathe if we wished to. Unlike some other boat tours, which tend to rush people from one attraction to the next, Sea Escapes managed to fit everything in very efficiently whilst allowing us all to take our time. This really is one of a kind as there was no time that I felt we were sticking to a tight schedule, which made it all the more enjoyable!
I highly recommend this tour if you go to Antigua. There are many other tour operators to choose from, but I promise that no other is quite like this one. Other tours that Sea Escapes offer include 'Treasures of Paradise', which involves a guided tour of Nelson's Dockyard, a restaurant lunch and sightseeing at Shirley Heights, and their 'Cocktail at Sunset' tour sounds utterly idyllic, including an underwater illuminated feeding show and champagne.
Visit the Sea Escapes website or drop them an email to book yourself a tour
---
Jolly Harbour Resort
Jolly Harbour is located on the West Coast of Antigua and in my opinion is thoroughly understated, with stunning calm blue waters just outside of the Harbour itself, many restaurants in the commercial centre to choose from, as well as a large supermarket to cater to every need. Castaways is a much loved restaurant and bar on the beach, providing a wonderful place for watching the sunset, with a cocktail or local Wadadli beer in hand and Caribbean delicacies to dine with. The jerk chicken is something to try at least once as it is a delicacy in the Caribbean itself, and just delicious.
The resort is about a 15-20 minute drive from the International Airport of the island and, located ideally between both is Budget Car Rentals who can provide you with the perfect vehicle for all your needs. If you are planning on exploring at all, this is a necessity, although there are frequent bus services across the island. This can get a bit hot and stressful though. With the car, the must visits are Shirley Heights, English Harbour and Nelson's Dockyard.
See the Sights
Shirley Heights is an 18th Century English guard post with spectacular views over English Harbour and Nelson's Dockyard: two historic pieces of Antigua that are also a must-see when on the island. Shirley Heights, along with all 365 beaches, is especially magical at sunset. Most people tend to go there on Sunday evenings when the island's 'biggest and best party' is held. This has been happening for many years and is always great fun, with a steel band playing throughout the evening, a barbeque cooking delicious food such as jerk chicken, burgers and fish. After 7pm the entertainment turns to reggae and the dancing begins under the stars, inspired with a large influence of rum punch! Definitely set aside one Sunday evening to experience this tradition – it's well worth it even if you just want to soak up the Caribbean feel.
---
 Sailing
Antigua is internationally renowned for its sailing culture and holds one of the biggest international sailing events in the world, Antigua Sailing Week. It is an annual event that welcomes participants and spectators from all over the globe. This year it is to be held from April 25 to May 1, 2015 and promises to bring just as much entertainment and excitement as it has for the last 47 years. It has now become traditional for Antigua Sailing Week to officially begin on the last Sunday in April every year.
Antigua Sailing Week started in 1968 when a group of friends got together to hold a regatta.  A number of the friends were hoteliers and part of their objective in creating the regatta was to extend the winter season by getting people to stay in Antigua a little longer – or to come specifically to participate in the event, which would in turn extend the end of the current season.
For those not on the water but looking for a way to be part of the action, there are many excellent options for spectator spots. The sight of all these yachts, both from vantage points on the shore, above the action and from spectator boats, is an unforgettable experience. A couple of good examples of these are: the Shirley Heights Lookout, and English and Falmouth Harbour.
All races take place off of English and Falmouth Harbours, so being a spectator here is ideal. For the best view of the race action, head up on foot to one of the forts or headlands. Carpenter's Rock is about a 15 minute walk from Galleon Beach, as are Fort Charlotte and Fort Berkley. The Middle Ground Trail leads out from Nelson's Dockyard, over the old forts and back down to Pigeon Point where you can cool off in the calm waters after your hiking expedition.
The parties and social atmosphere are still key features of any regatta however, and so at the end of every day of racing there are a variety of parties and events designed to please everyone.
Another optional race is also held before the Sailing Week: the Round Antigua Race with a course of approximately 54 nautical miles around the island of Antigua. This race is scored separately from Antigua Sailing Week and offers excellent training opportunities for the week of racing that follows.
Antigua Sailing Week draws to a close on Friday evening in the romantic historic Nelson's Dockyard. It's a great evening of celebration at which everyone dances the night away after the trophies have been handed out and everyone can relax after an invigorating and exhausting week of racing. The parties and social atmosphere are still key features of any regatta, so you will be spoiled for choice!
Sailing with Miramar
Miramar is a company based in Jolly Harbour, Antigua that's dedicated to and passionate about sailing. It holds four facets which provide a wide range that anybody can choose from to suit their needs: day sailing, sailing vacations, training and yacht charter. As it is based on the West Coast of Antigua, where the waters are calm, Miramar provides the perfect opportunity to see the scenic coastline, whether that's whilst getting stuck in to some hardcore sailing, or just relaxing on the calm turquoise waters. The Caribbean really is beyond compare for a sailing excursion.
I had the opportunity to interview Brian and Pippa Turton, the owners of Miramar whose aim is to bring a professional and personal service of the highest quality, always making their customers' sailing experience an unforgettable one.
So Brian, what's the story of how you came to set up Miramar in Antigua?
I quit my career in the UK in October 2004 with the intention of getting into professional sailing. After I sorted out my affairs in the UK, I then flew out to Thailand and sailed around the Indian Ocean and Red Sea. During that trip, a friend of mine approached me who was doing an Atlantic circuit, sailing to Portugal, the Canary Islands and the Caribbean, to then go back to Southampton. I decided to go with him, but when we got to St. Lucia and he said he wanted to stay instead of sail the boat back, I didn't want to fly back to the UK. So I stayed in the Caribbean instead. I was advised that if I were to set  up a sailing business, as I had aimed to do, that I should go to Antigua.
Why Jolly Harbour specifically?
My friend had been to Antigua several years previously on holiday and said the island was a great place for what I was looking for, and Jolly Harbour was the ideal base location because of its commercial centre facilities, harbour, expanding tourism, and focus on all things boat-related. There were a huge amount of day boat trips going from the harbour itself and in the surrounding area as well as yachting and  chartering facilities. Once I had wandered around for a day, I agreed that it was the place to stay, so I bought a boat! The location of Jolly Harbour on the West Coast also gives access to very calm waters rather than the more rough waters of the Atlantic side of the island. This is ideal for people who have never been sailing before, as they get more enjoyment out of it; sometimes going out into the Atlantic with newbies is a bit scary.
What makes this area so good for sailing?
Consistent winds from the east called the 'trade winds'. Attractive blue seas which makes a nice experience. Big racing yachts like the fact that in between the islands are basically ocean conditions so it's challenging enough for them. We have fairly consistent strong winds too, which makes for some exciting sailing, however there's always the choice to be on the calmer waters closer to shore. Areas of calm for the novices and challenging areas for the more experienced too.
Antigua is an airline hub – international airport, which makes it very easy to get there to sail. Other islands don't have that.
How did you get in to sailing initially?
It all started a long time ago, on a weekend away with some friends in Suffolk and an ex-girlfriend. During the weekend, my friend suggested we have lunch on their boat, after which he also suggested we go sailing. So we did, and I thought it was awesome  – I was immediately hooked and have been ever since.
Could you tell me a bit more about the facets of your business?
We offer day sailing, sailing vacations, RYA training and yacht charters. We used to be just a day charter company, however we now franchise our day sailing, and have moved on to other things. A skipper with his own boat takes people out on day tours. We have three yachts, and also have a choice of 4 or 5 skippers, 3 of which are our own instructors. We offer 3 hour sunset cruises, 6 hour lunch cruises, and an 8 hour full day cruise, which incorporates both the sunset and lunch tour in one. Poeple tend to go out about 10 am and get back at around 7pm after having sailed, snorkeled, had lunch and watched the sunset. We can also tailor day tours to suit people's requirements if needed.
What kind of training do you offer?
We have been an approved RYA sailing school for 5 years and we offer the full range of the RYA courses, so we can organise any course you wish to take. That's the major part of our business now, progressing people who can sail already, or teaching people from scratch up to acheiving a "young master qualification" which is acheived by outside examination.
The first level of the RYA is for people who have never sailed before. We put them on a boat with an instructor and let them learn from there. By then end of the week, they will be as competent as crew themselves. Most if not all of the RYA courses are a week duration. Two of the practical courses carry a theory course before you do the real stuff, which gives a good base knowledge before you set sail, however is optional.
Are there different levels according to what people want to achieve?
Yes, we can arrange any level from complete novice to near professional. For those who want to learn but perhaps don't want to undertake an official course, we also do charter vacations which comes with as much training as the individual wants. With family or friends, an individual may not be able to carry out an RYA course but will be trained in a relaxed manner. We tend to teach naturally anyway, and we find that few people show no interest at all in learning what's happening on the boat, whatever tour they do.
How far in advance would that need to be booked?
Depends on the time of year really. It very much comes down to our availability, but usually a couple of months in advance is ideal, especially for our peak seasons, although the summer months are naturally quieter due to it being hurricane season, although that should really just be called 'adverse weather conditions' season! We sail every day of the year so if we are available that week, we can do that week.
Do you still have time to go out sailing yourselves?
Very rarely. I would never give up sailing but I tend to just run the business more than instruct or sail myself. Pippa would much rather be teaching, so she runs the training school and does often spend more time sailing or on the boats than I do. Pippa also provides a girl's sailing tour, which she usually goes on herself with the girls. This gives girls a chance to get sailing independently and also have a great time perhaps without their partners, or any other male influences for that matter. Pippa has also recently taken part in a non-stop 600 mile race.
Was that tough?
I'm not supposed to say really, am I? But I am regularly out on the waters of the Caribbean which can be daunting for people who aren't used to it, however not so much for me. So, the 600 mile race was very similar to my everyday and relatively painless as a result. To be fair, with the fairly novice crew, we weren't racing hard like some others were so we just got round safely and had a great week!
Do you get a wide range of nationalities at Miramar?
We get a very broad spectrum:  Italians, Russians, Belgians, Swedes, Danish. Largest proportion are English, Canadian or American though, as is the same with the island as a whole. The RYA also insists on our courses being tought in English, so anybody taking the course must have a good level of English to be able to understand.
Do you get involved in Sailing Week?
Yes, do try to every year. Another aspect of our business is chartering racing yachts, so we market several that do sailing week, and all the regattas across the world. Sailing week is one of the most important. We are sponsoring for sailing week and, if we get a booking I am hoping to take part in it for some of the period if not all of it because I do miss sailing.
Any advice for people thinking of coming to Antigua to do sailing?
My advice would be not to be afraid of hurricane season. It seems to be a taboo, but with the technology these days which warns of adverse weather so far in advance, you will never be caught off guard – we never have in all the years we've been here. The hurricane season is officially 1st June till 30th November, which is a large proportion of the year, yet in the last 10 years there's only been one hurricane so they are very few and far between. In fact, the UK has been getting stronger winds than we have in recent years. Tropical storms are more frequent, but they are rarely dangerous in any way, just a bit of an inconvenience. Because of this, we offer low season discounted rates for the RYA courses and sailing tours.
---
If you're raring to get out on the Carribean Sea, book a course on the Miramar Sailing website.
Maybe you could work up to one of the Antigua Sailing Week races – here's a video to get you going!