Restaurant Review: FOOD for FRIENDS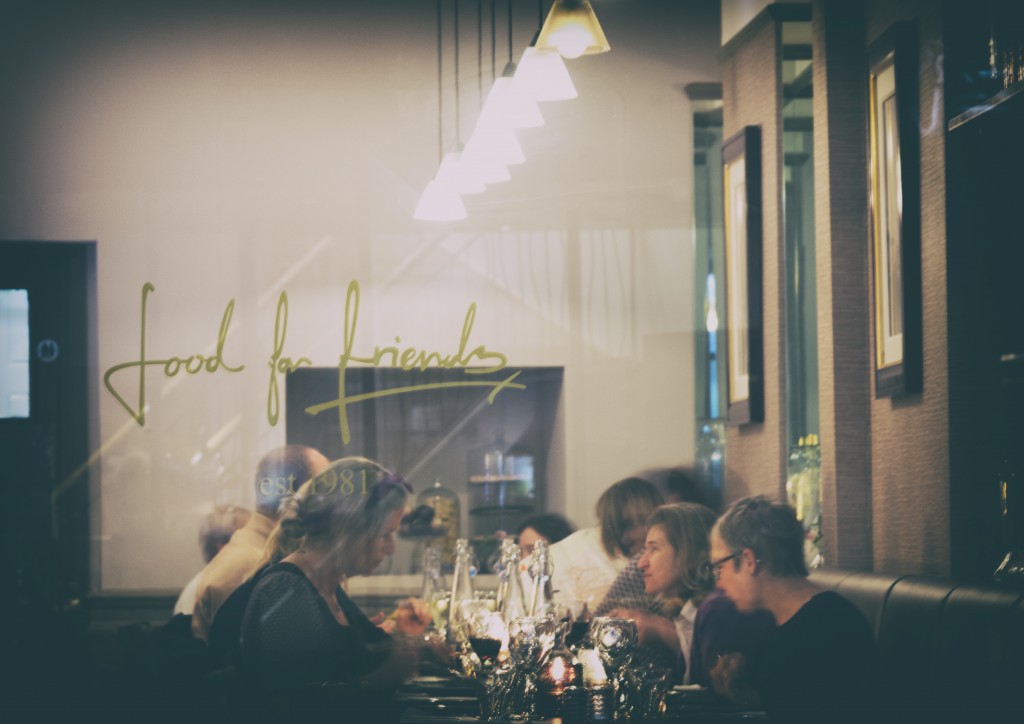 We are very lucky to live in a country that offers a huge plethora of options for foodies. Inspired looks closer to home for this editions restaurant review, turning veggie for the day and spending lunch time at Food For Friends in sunny Brighton…
On the corner of Prince Albert Street in the historic South Lanes, Food For Friends provides an ideal place for exactly what it says on the tin: a meal out with friends. The glass encased, bistro-feel interior gives a feeling of relaxed sophistication; laid back and quiet with a pinch of class and air of elegance.
I sat down with my partner and was given a full menu along with a lunch set menu and offered complimentary filtered water for the table. I had chosen this restaurant for a review this month because it was something a bit different to the usual: a vegetarian restaurant. In Brighton, this is now a well-versed idea for passers by and locals have become used to the eclectic mix of different and exotic flavours they come across around each corner of the South and North Lanes. However, ashamedly, I am one of those who tends to – very much accidentally – stick to what I know. Not this time. Food For Friends seemed an obvious choice; it was voted Best Restaurant at the Brighton and Hove Foodie Awards in 2012, and is in the Good Food Guide 2015, plus has many a good review on and offline. That's a lot to live up to. Their ethos is that they use the freshest and finest ingredients to really appeal to not just the vegetarian but simply all food-lovers, and I am certainly the latter, but with a healthy love of veg!
As it was a sunny summer's day, I decided to go for a cocktail (non-alcoholic), so tried the Lemon and Apple Zinger, which was beautifully refreshing and full of flavour. I ended up having two more! The cocktails here are fairly priced and are adapted to suit the season, so you should always find something to suit the mood and weather. We were then informed that the soup of the day was a broth-like concoction with courgette, tomato and mushroom and, even as I looked down the list of delicious sounding starters, I couldn't get the idea of that soup out of my head. So, I went ahead and ordered it, whilst my partner chose the Sweet Tofu Pockets, stuffed with stir-fried shiitake mushrooms, spring onions and brown rice with a hot Gochujang pepper sauce (vegan and gluten free). I had already found out that I wasn't the biggest fan of tofu, but my partner clearly was at this point, and we both very much got onto a good start!
For the main event, I opted for the Mushroom Three-Ways dish, which was recommended to me by our very accommodating waiter. He mentioned that this dish had replaced one of their very popular dishes and was new on the menu, so as the mushroom-lover that I am, I thought it best to give it a go. My partner chose the Double Baked Soufflé, which was topped with grilled goat's cheese and served with honey roasted vegetables, Jerusalem artichoke purée, wilted cavolo nero and basil pesto. I must say, when both of our mains made their way to the table, a pang of jealousy raged through me at the sight of the extremely appealing looking soufflé, but my meal was in fact delicious, especially given that it was very simply a plate of mushrooms. It was all deliciously flavoured, and each mouthful had something different to it. The Portobello mushrooms were grilled and marinated in what tasted like a lot of garlic and herbs, I had Shimeji fricassee and pickled wild mushrooms too, all alongside cauliflower puree and a rosemary potato gratin.
At this point, I could hardly even think of putting any more food in my mouth; I was extremely full. So, on this occasion (rare as it is), I decided not to have a pudding, but my partner did and, of course he just had to go for the most indulgent and rich one on the menu – I felt that pinch of jealousy return as soon as it was ordered.
The Molten Chocolate pudding was cooked perfectly, melting in the middle with the wonderfully complementing, sweet but bitter salted caramel sauce, vanilla ice cream and crushed pistachios. I had to try some and I'm very glad I did. It was gooey, filled with different flavours, rich and heavy but light all at the same time. I may go back just for this dessert.
We left feeling amply full and satisfied that we had experienced something quite unique. The atmosphere and food made for, I think, a perfect place to bring, as the name suggests, a friend or the whole family. The flavours are a talking point, the aesthetics thoroughly impressive, the service above par and the setting ideal – set just a few roads up from the wonderful Brighton beach and close to the famous pier. There were customers here that had clearly spent many an hour simply enjoying the environment, watching the world go by through the curved windows and, I'm sure, feeling treated as friendly company. I encourage anyone visiting this vibrant city to take the time to visit Food For Friends and be inspired.
17-18 Prince Albert St,
Brighton BN1 1HF
01273 202310
www.foodforfriends.com
Restaurant Review: FOOD for FRIENDS