Luxury in Lisbon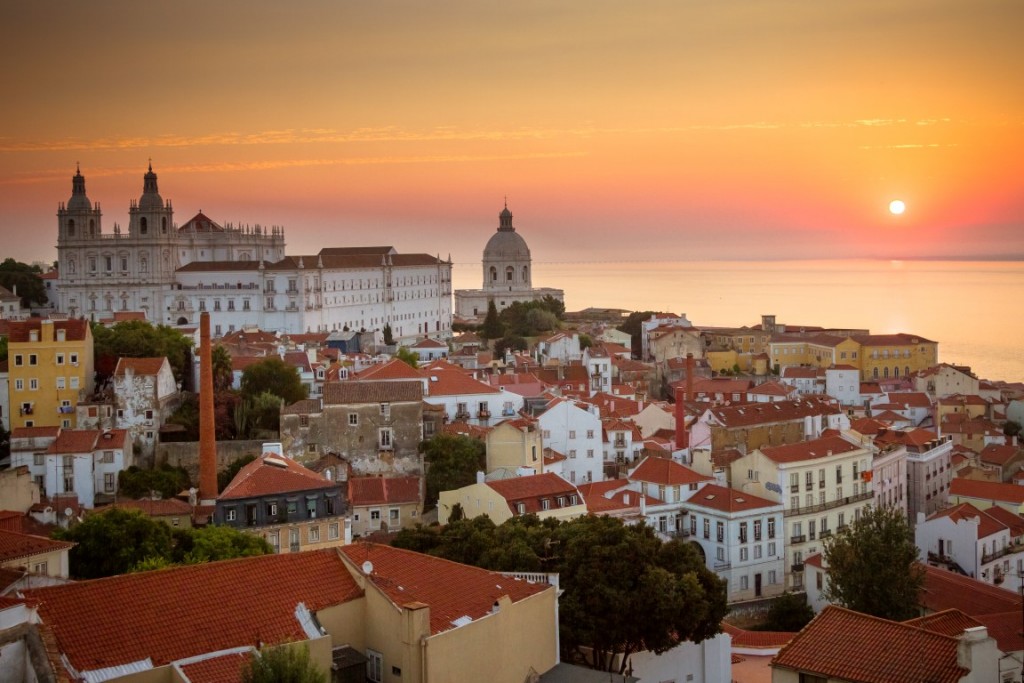 Zoe Thomas travels to mainland Europe's westernmost capital to sample the luxuries of the Four Seasons Hotel Ritz Lisbon
Before last week, I never imagined I'd find myself on a rooftop running-track watching the sun rise over Lisbon. Especially not after a wild night drinking Caipirinhas by the pint. I could see the tops of buildings and the towers of the 25 de Abril Bridge peaking out from beneath a shroud of thick fog. Everything was bathed in salmon-pink; ethereal. It was like jogging in the sky.
Even at that ungodly hour the conditions were hot and sticky, and after twenty minutes of circumnavigating the Ritz Four Seasons roof in running gear designed for a chilly morning in England, I was even hotter and stickier. I decided to complete my workout in the hotel's air-conditioned rooftop gym with the same breathtaking views. If there was ever a reason to spend your morning running nowhere on a treadmill, this was it.
On my way out of the gym I noticed a 'refreshments corner' in the foyer and helped myself to a glass of chilled water and an immaculately shiny apple from the fruit bowl, hoping I hadn't just eaten one of the hotel's contemporary art installations. Then I made my way down to the spa in the lift.
The ladies changing room in the Four Seasons Hotel Ritz Lisbon is a destination in its own right. I could quite happily have spent a day in there. The air was fragrant with a mix of calming aromatherapy scents, while soothing pan flutes breathed through a surround sound system concealed in the teak panelled walls. Floor-length mirrors produced the illusion I was wandering around a labyrinth – I found myself lost in a maze of steam rooms, saunas and 'grooming stations' with shelves and draws crammed with all the products a woman could possibly need, from cotton buds and wipes, to hair mousse and deodorant. I even stumbled upon a purple-lit cubby hole housing an ice fountain, next to a dark 'relaxation room' where guests could go to close their eyes and meditate. And the best thing about it? I had the whole place to myself. I wandered around in my oversized robe, helping myself to a bit of ice (apparently it helps with circulation) before padding out into the pool area. The pool was a cyan rectangle, perfectly still and smooth and surrounded by cream padded recliners. After a quick dip, I decided I'd done enough exercise that morning to warrant a big breakfast.
Squeaky clean and emanating a potent scent of rose, lavender and tea-tree oil, I entered the Veranda Restaurant where some of the hotel's well-healed guests were already tucking into the American buffet breakfast and basking with freshly-squeezed orange juice on the sun-drenched terrace outside.
I helped myself to the banquet tables laden with cold meats, exotic fruits, pastries, cakes, cereals and yoghurts, before choosing a seat on the terrace. Immediately a waiter took my order for a cup of tea (despite admonitions from a local resident that Portuguese tea wasn't worth drinking), before leaving me in peace to tuck into my croissant and plan a day of sightseeing around the city.
---
Things to see in Lisbon
Tram 28
One of Lisbon's many quirks is its vintage tram network, transporting tourists and commuters across the ancient Alfama district in yellow pre-war Remodelado style carriages. The Tram 28 route includes some hairy climbs up steep and narrow streets offering glorious views and great photo opportunities.
Monastery of Sao Vicente de Fora
You can hop of Tram 28 to explore the beautiful Monastery of Sao Vicente de Fora, a 17th century monastery built in the Romanesque style. It is dedicated to Saint Vincent of Saragossa, the patron saint of Lisbon. Inside you can view the incredible baroque altarpiece constructed by one of the best Portuguese sculptors, Jaoquim Machado de Castro.
Arco da Rua Augusta
The Rua Augusta Arch, also known as The Triumphal Arch, is one of Lisbon's most recognisable historic monuments. It was designed by architect Santos do Comercio in the 19th century to celebrate the reconstruction of the city after the infamous 1755 earthquake. With its dramatic roof adorned with figures representing Glory, Genius and Bravery, this breathtaking monument is certainly worth a visit. It also provides visitors with panoramic views across the square and river from the belvedere.
Castelo se Sao Jorgo (Castle of St George)
The castle is built on the site of an ancient fortress that has been used by many settlers over the centuries, including the Romans, Visigoths and Moors. In 1147 it was conquered by Portugal's first king and remained a royal residence until the 1700s.  Like many buildings in Lisbon, it was severely damaged in the earthquake of 1755. Today you can visit the castle's beautiful courtyards, battlements and gardens alongside a multimedia exhibition that bring's Lisbon's history to life.
---
Lisbon is a vast and beautiful city sprawled across seven hills and multiple districts, from the modern financial district, to ancient Alfama with its cobbled streets and steep alleys. The best way to explore is to go by ear. Take the tram, talk to locals, pop into cafes and above all – take it easy. Like with all big cities, there is a lot to see and often the best sites aren't in the guide books. The best sites are unexpected.
For me, the Four Seasons Hotel Ritz offered a luxurious sanctuary after a long day of exploring. With faultless service and unbelievable indulgences, the hotel soars to the top of my list of favourites. It might be a little inelegant on the outside, as any 11-storey concrete building built in the '60s would be, but it's the inside that counts. And inside offers the perfect vantage point over this complex but beautiful city.
---
Things To Try in Lisbon
Caipirinha cocktail – A Brazilian cocktail made with cachaca, sugar and lime over crushed ice
Pastel de nata (custard tart) – A sweet Portuguese egg tart that can be found all over Lisbon