New Orleans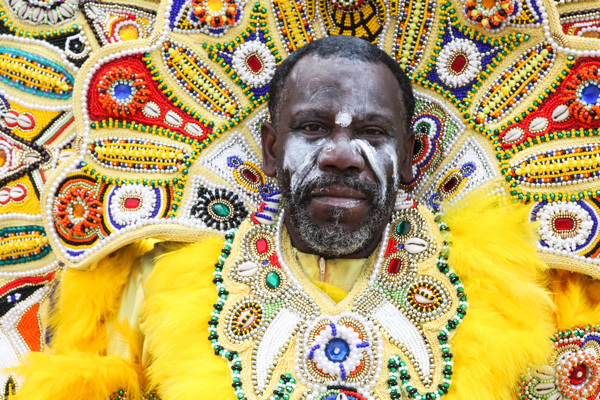 Jazz, Freedom and Red Beans – A Taste of Life in New Orleans
.
Jazz is the lifeblood of New Orleans. It hits you in the solar plexus, gets you somewhere you never knew existed. It was in this small Louisiana town just over a hundred years ago that the rumble of African drums first met the brass instruments of Europe, and jazz (the West African word for 'sex') was born, erupting from the instruments in a frenzy of rhythm that would soon cross seas and become one of the most popular music genres in the world.
The character of New Orleans is like its jazz – lively, unpredictable and yet powerful too. Right from the offset, the so-called 'Big Easy' danced to the beat of its own drum. The city has always enjoyed a freedom that exists nowhere else in North America, and this sense of liberty was born from its cultural history. While the English colonies of North America followed straight-laced Protestant values, the people of New Orleans embraced the ways of all its waifs and strays to create a vibrant melting pot of life, art, music, food and language. People came from far and wide to make New Orleans their home; from the French who first founded the colony in 1718, to slaves from West Africa and Haiti, as well as immigrants from Spain, Cuba, Ireland, Germany, Greece, Croatia and the Philippines. And for all of these, the city offered a mostly level playing field. When the Spanish invaded in 1765, they offered the black population a chance to buy themselves out of slavery in return for support against the French settlers.  Along with Creole slaves, these newly free settlers set up their own black urban communities – the first in North America.
Now, over a century has passed and this pulsing little city on the banks of the Mississippi has grown up and forged its own epicurean philosophy devoted to the joy of life, expressed through the music that dances day and night through these charming, rickety old streets.
---
Visiting New Orleans
Inspired to experience the vibrant Big Easy for yourself? New Orleans welcomes all visitors with open arms, whether for budget, midrange or luxury holidays. Once here, there is so much to see, do, taste and of course hear, that it's difficult knowing where to start. Here, we've put a selection of original ideas together to help you plan your visit for 2014…
Festivals
More often than not you'll be swept off your feet and into a party within hours of your arrival at New Orleans. Festivals occur all year round in different parts of the city, celebrating all aspects of life including food, music art and film. Here are some of the best…
Oyster Festival (May 1-June 31)
For seafood lovers this festival is a dream. Head to Woldenberg Riverfront Park and try some world famous Gulf of Mexico Oysters, plucked straight from the crystal clear shallows and prepared by some of the city's top chefs.
Satchmo Summer Fest (Jul 31–Aug 3)
If you're travelling here in August, be sure to stop off at the French quarter for the Stachmo Summer Fest, a free music festival dedicated to Louis Armstrong where you can enjoy live jazz and ice-cold Southern style beverages under the midsummer sun.
Crescent City Blues and BBQ Festival (Oct date TBC)
Combine a warm October evening with meat sizzling on the BBQ and some of the most renowned blues musicians in the country, and you've got the Crescent City Blues and BBQ Festival. This is held in Lafayette Square and what's more, it's completely free.
Culinary delights
How do you really get a good taste of a new place? To really understand a culture and its people, you need to taste their regional dishes. Food is the fuel of life and for the people of New Orleans, it's a real passion. Their food represents their heritage, it represents the land they live on, and it represents their
unique New Orleans identity.
New Orleans is famous for its great Monday tradition: red beans and rice. Traditionally, Monday was washday and women would put on a pot of beans to stew with a leftover hambone while they got on with the daylong task of washing the laundry. While most people these days have the luxury of a washing machine, red beans and rice are so loved by locals that most still enjoy this dish (usually with pork sausages) every week.
Restaurants serving a great dish of red beans and rice include:
Felix's Restaurant and Oyster Bar
739 Iberville St. 504 522 4440
Matassa's Market
1001 Dauphine St. 504 412 8700
Sammy's Food Service & Deli
3000 Elysian Fields Ave. 504 947 0675
---
Other local delicacies also have their own quirky stories…
Banana Foster
This dessert was concocted in the 1950s as a way of promoting New Orleans' latest fruit import. It consists of four bananas split lengthways and flambéed in butter, sugar, cinnamon and a good dousing of rum. This is then served with a US-sized dollop of vanilla ice cream.
Po-Boys
During the Great Depression nearly a hundred years ago, a group of streetcar workers went on strike for four months, during which they opened a sandwich shop and dished out free sandwiches to their former colleagues, who they jokingly called 'poor boys'. In Louisiana dialect, this is pronounced 'po boy' and this was what the sandwich soon became known as.
This well-stuffed French roll may not be haut cuisines, but it's one of the best-loved foods in the city and it makes for a great lunch when you're up and about.
Gumbo
The closest thing to gumbo is stew, but most locals insist gumbo, served over rice, is in a category of its own. No two bowls of gumbo are ever the same and it really represents the mix of cultures in the city. Native Americans introduced the base seasonings of sassafras and bay leaves, while okra came over from West Africa. Over the years, other ingredients have been added and everybody seems to have their own way of making it.
---
Activities
From horse riding and fishing to museums and galleries, there's plenty to do and see for all ages in and around New Orleans. Here is just a taste of some classic New Orleans experiences…
Cycling
Take in the beautiful ironwork balconies and Creole cottages in the French Quarter by bicycle, then cycle down to the historic Garden District to view the magnificent houses with their sprawling gardens.
Walking tours
Themed walking tours are offered all over the city, giving visitors an excellent chance to find out more about its vibrant history, food and culture by foot. 'Free Tours By Foot' offer a New Orleans Ghost Tour in the French
Quarter as dusk begins to fall and eerie stories bring the ancient street to life. If you're more interested in the city's culinary offerings that tormented souls from times past, then perhaps you would prefer to join the French Quarter Food and History Tour. Here guides take you on a walk through the streets, telling stories of the city's most famous restaurants and chefs, and eventually ending up at café Beignet where you can tuck in to some local treats.
Alligator Swamp Tours
Take a cruise with a difference around the swampy regions surrounding New Orleans. See exotic flora and fauna and come face to face with 10-foot gators (from the safety of your boat!) as well as deadly snakes, swamp deer and raccoons.
New Orleans cooking experience
If you fall in love with New Orleans food during your stay, why not sign up for a culinary class or two? There are a number of cooking schools around the city offering lessons in authentic techniques that help you not only build your skills, but also enjoy a fun and unique evening with friends or family.
Nightlife
New Orleans has more than just jazz to offer. There are also plenty of nightclubs, cocktail bars, burlesque clubs and gig venues to keep all night owls entertained until dawn. Head to Bourbon Street in the French Quarter where you will find all of these and more within walking distance.